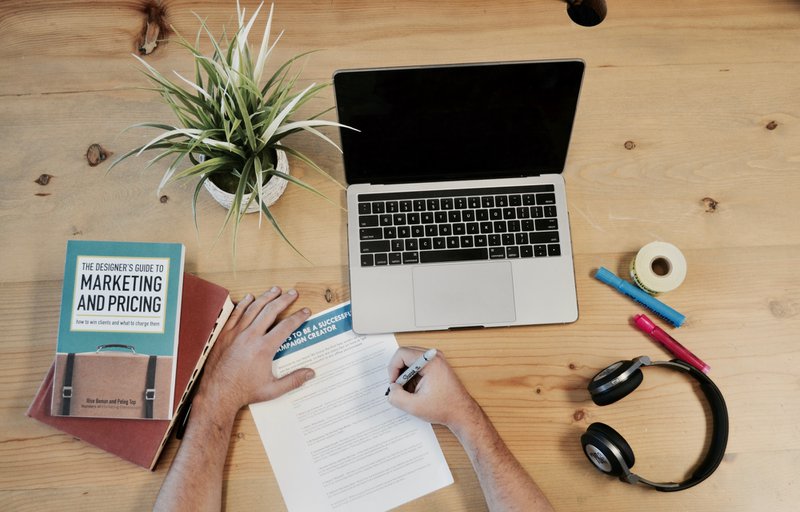 Waking up at an ungodly hour and driving through total gridlock to reach your office on time? Or you might have transitioned to staring at your screen for almost two-third of the day and slogging through mind-numbing emails after emails until the sweet release at five o'clock.
Sounds terrible?
What if, instead of dealing with such stress and monotony of the rat race to make a few bucks, you could earn money at any time, from anywhere- even while you sleep?
This is why affiliate marketing is still appealing in 2021.
Affiliate marketing is a renowned technique to drive sales and generate significant revenue. This tactic is extremely beneficial to both the parties- brands and affiliate marketers. You get paid every time you drive a sale, just like a commission-only sales representative.
81% of brands and 84% of publishers rely on this tactic and leverage the power of affiliate marketing to eventually generate revenue.
What Is Affiliate Marketing?
Affiliate marketing is a process by which an affiliate earns a commission for marketing another company's or individual's products. But the process is not limited to it. You can be both the creator and marketer and still make a profit out of it from the underlying idea of sharing revenue.
The affiliate simply looks for the product they like, promotes, and earns a percentage of the profit from each sale they make. The sales are tracked through affiliate links or backlinks from one site to another.
When someone uses your affiliate link and makes a purchase, you get a commission.
The best part of this process is that you can do it at scale. While typical salespersons only sell products from one company, or two at most, you can promote products from many different companies and earn commissions from all of them.
How Does Affiliate Marketing Work?
Affiliate marketing spreads the duties and responsibilities of product creations and marketing across parties. Hence, it manages to leverage the abilities of a variety of individuals for a more effective marketing strategy and provides contributors with a share of the profit.
There are three different parties behind this to make this work.
Product Creators and Sellers
The seller is a merchant, vendor, product creator, or retailer, working as a solo entrepreneur or for a large enterprise. Moreover, the seller doesn't need to be actively involved in the marketing. Rather they may also be just an advertiser. The product they create and sell can be a physical object or a service.
Affiliate or Publisher
An affiliate can be either an individual or a company promoting the seller's product in an appealing way to prospective customers. They simply market the product by persuading customers that it is beneficial for both parties and convince them to make a purchase. And if the consumer ends up buying the product, the affiliate earns a percentage of the revenue generated.
Consumer
Consumers are the main drivers of affiliate marketing. When they buy a product, the seller and the affiliate share the profits.
Sometimes consumers are told beforehand that the affiliates are receiving commissions for the sales they make. Other times, they may be completely oblivious. Either way, the consumers are the most significant part of the affiliate marketing system. And, they purchase and receive the product without being affected by the system.
Why Be An Affiliate Marketer?
Affiliate marketing may sound too good to be true, but has real benefits for both the companies and the affiliate. These include:
Passive Income: By investing an initial amount of time into a campaign, you will get continuous returns during and after the campaign.
No Customer Support: You will never have to be concerned with customer support or customer satisfaction. The seller deals with any customer complaints after you receive your commission from the sale.
Work From Home: You will launch campaigns and receive revenue from the comfort of your home.
Cost-Effective: There are no affiliate program fees, investment, or startup fees required to begin with.
Convenient And Flexible: You get ultimate independence in setting your goal, redirecting your path, choosing the product you desire, and diversifying your portfolio. You are free from company restrictions.
Performance-Based Rewards: You'll get whatever you put into it, and get paid for the outstanding work you do!
Organic Traffic: Do not underestimate the power of SEO. There is a ton of organic traffic you can get from search engines if you do SEO properly.
How To Become An Affiliate Program Seller or Creator In 4 Simple Steps
If you want to become an affiliate program seller or product creator and then make money by having affiliates sell your products, there are 4 simple steps that you can follow.
Step 1: Coming Up With A Product Idea
If you want to make money with your affiliate marketing business, conduct thorough research first. Just look at what products and services are already out there but need a little modification.
Consider how you can improve upon them, by delivering something that solves the problems with those products. Keep that in mind that you can always choose a topic you are interested in or involved in.
Step 2: Validating Your Idea
After you have come up with an idea, start validating them. Ask your followers whether or not they would buy your idea. If they respond with a yes, directly follow up with an ask to buy. And when they are interested in your product, persuade them to buy your idea. Give them a chance.
You can simply say you will create the product if you get a certain amount of orders. Once you cross the threshold and make sure people want it, start creating the product you want to sell.
Step 3: Creating The Product
There are tons of steps to follow for creating a product. Speaking from my experience, do not waste precious time and resources on creating a physical product on your first try. Rather try creating digital products.
Creating digital products is a lot easier since it just takes time and sometimes a little financial investment, but usually not more than a service fee or a one-time price for the software.
Step 4: Finding Affiliate Program Partners
It is the toughest part of all. Simply send potential partners an email, introduce yourself and your product. Then ask them if they want to partner on a sale together, where you will share revenue.
Find partners who actually have an audience that is interested in what you have to sell. Contact them and get them to cooperate on a sale together. It would be an easy pitch because it is a perfect fit. The more focused your niche is, the easier it will be to pitch to fellow sellers.
Tips To Help You Become A Successful Affiliate Marketer
Develop A Rapport
Create an audience with very specific interests at the beginning of your affiliate marketing career. This allows you to tailor your affiliate campaigns to that specific niche, improving the chance of a conversion. Rather of marketing a wide range of items, establish yourself as a specialist in one field.
Make It Personal
There will be no scarcity of products to market. You will be able to select products that you really believe in, so make sure that your campaigns concentrate on truly valuable products that people will love. You'll get an amazing conversion rate while also building the trustworthiness of your own brand.
Start Reviewing products And Services
Focus on reviewing products and services that fall within your niche. Then, leveraging the rapport you have created with your audience and your stance as an expert, tell your readers why they would benefit from purchasing the product or service you are promoting.
It is especially effective to compare this product to others in the same category. Most importantly, make sure you are generating detailed, articulate content to improve conversions.
Use Multiple Sources
Instead of focusing on just an email campaign, also spend time making money with a blog, reaching out to your audience on social media, and even looking into cross-channel promotions. Test a variety of marketing strategies to see which one your audience responds to the most. Make frequent use of this technique.
Choose Campaigns With Care
No matter how good your marketing skills are, you'll make less money on a bad product than you will on a valuable one. Take the time to study the demand for a product before promoting it. Make sure to research the seller with care before teaming up. Your time is worth a lot, and you want to be sure you're spending it on a profitable product and a seller you can believe in.
Stay Current With Trends
There is serious competition in the affiliate marketing sphere. You'll want to make sure you stay on top of any new trends to ensure you remain competitive. Additionally, you'll likely be able to benefit from at least a few of the new marketing techniques that are constantly being created. Be sure you're keeping up to date on all these new strategies to guarantee that your conversion rates, and therefore revenue, will be as high as possible.
How Do Affiliate Marketers Get Paid?
Before knowing how do affiliate marketers are getting paid, it is important to know how much money an affiliate marketer can earn?
The simple answer is: There is no such limit. It solely depends on your niche and the amount of work you put in.
According to Glassdoor's affiliate marketing income statistics, an affiliate marketer makes $65,800 annually on average. The lowest can be $42,000 and the highest can be $83,000.
However, for a successful marketer, the potential earning is higher. Some of them even earn six to seven figures. But bear in mind that, they didn't achieve it overnight. Their continuous hard work and determination paid off after a long time.
Now we know it is a reliable and inexpensive method of making money without the hassle of actually selling a product. But how does an affiliate get paid after linking the seller to the customer? The affiliate may get paid in several different ways, including pay per sale, pay per lead, and pay per click.
Pay per sale
In this method, the seller pays the affiliate a percentage of the sale price if the consumer responds to the affiliate marketing strategies and makes a purchase. Here, the affiliate gets the investor to invest in the product even before they are compensated.
Pay per lead
In this system, affiliates are compensated based on the conversion of leads. Here, the affiliate persuades consumers to visit the seller's website and complete the desired action. The action can be filling out a contact form, signing up for a trial, subscribing, or downloading files.
Pay per click
In this method, the affiliate is compensated based on the increase in web traffic. The program incentivizes the affiliate after engaging consumers to the extent that they will move from the affiliate's site to the seller's site.
Now that you understand what affiliate marketing is, how it can benefit you, and how affiliates make their money, there's still one more question left to answer...
Is Affiliate Marketing Worth It?
Despite a controversial reputation among those not really in the know, affiliate marketing is a totally legit way to earn an income. At the end of the day, the majority of the world's population is internet-connected, and online sales in all categories are constantly increasing.
With the right skills and attitude, affiliate marketers can achieve levels of success ranging from reasonable to unbelievable. So, why shouldn't you be a part of it too?
Here are a few tips for you if you want to become a successful affiliate marketer in 2021:
Only recommend products you are extremely familiar with.
Promote products from many different merchants.
Test and optimize your conversion rates constantly.
Build an email list with your prospects on it.
Use improved affiliate reporting and attribution to see a cross-channel view of how individual marketing tactics are working.
Educate your audience with live webinars.
Focus on your affiliate traffic sources.
Grow your business with PPC Advertising.
Use GDPR while collecting data.
Final Thoughts
Affiliate marketing is an ideal solution for those looking to gain control of their own income by focusing on performance-based revenue options. Working in tandem with a seller, a motivated affiliate marketer will be able to achieve a passive income from the comfort of their home without worrying about producing their own product or service.
And when it comes to boosting your earnings with affiliate marketing, you need to robust SEO strategy. Along with this, if you are looking for a reliable backlink monitoring tool to keep tabs on your profile in real-time, BacklinkSEO is the perfect tool for you.
Create a free account on BacklinkSEO today and start growing your traffic to make more money!