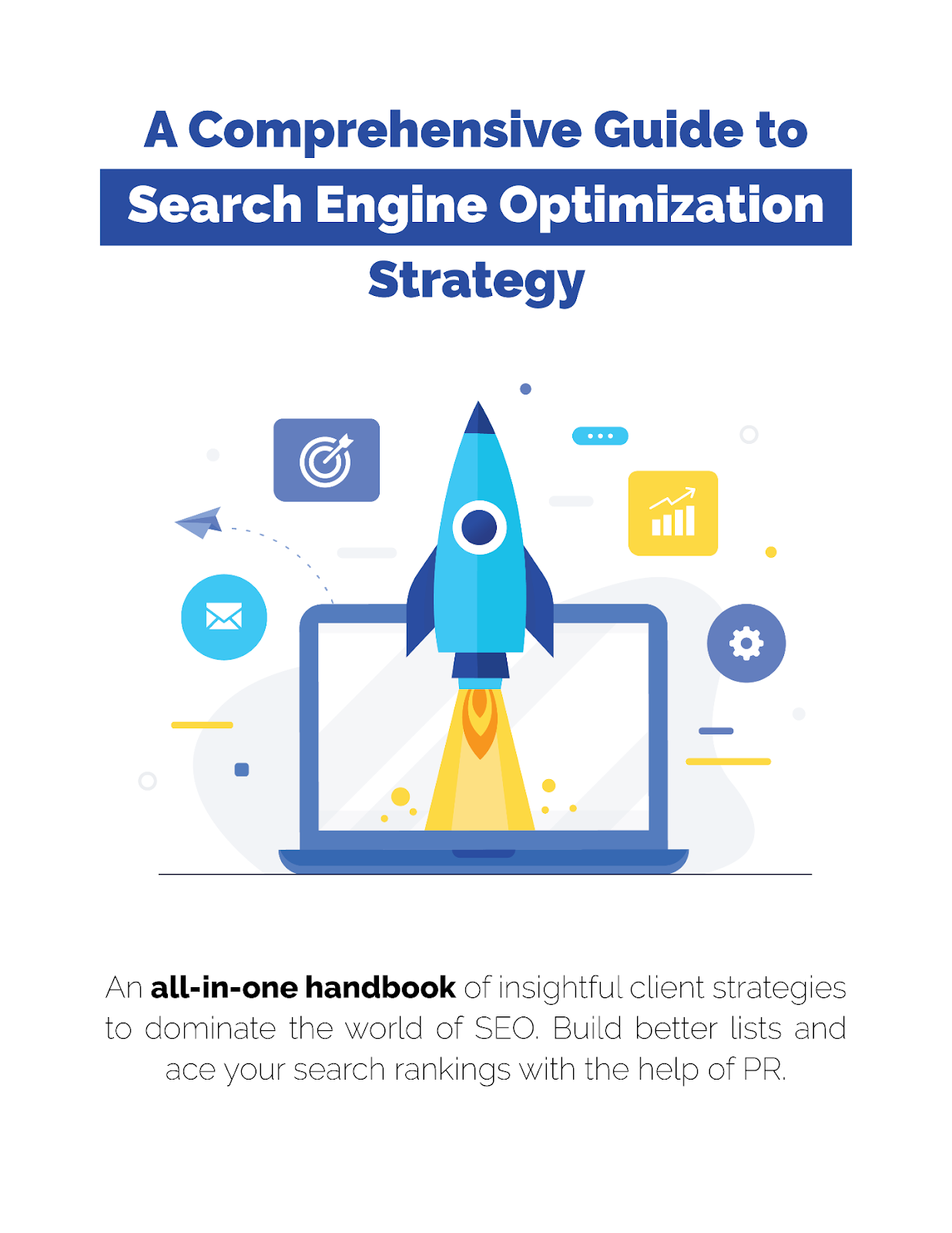 ---
A Comprehensive Guide to Search Engine Optimization Strategy
Search Engine Optimization is key to visibility, but it has so much more value than that alone. When you attract more traffic to your website, that, right there, is your chance to convert that traffic into leads and customers. Deeply connected to SEO is Public Relations, another powerful brand marketing discipline. This guide aims to elaborate their points of synergy within a strong search engine strategy and demonstrate how the smart application of available resources and tactics can lead to dominant brand visibility in search.
WHAT WE'LL TALK ABOUT IN THIS GUIDE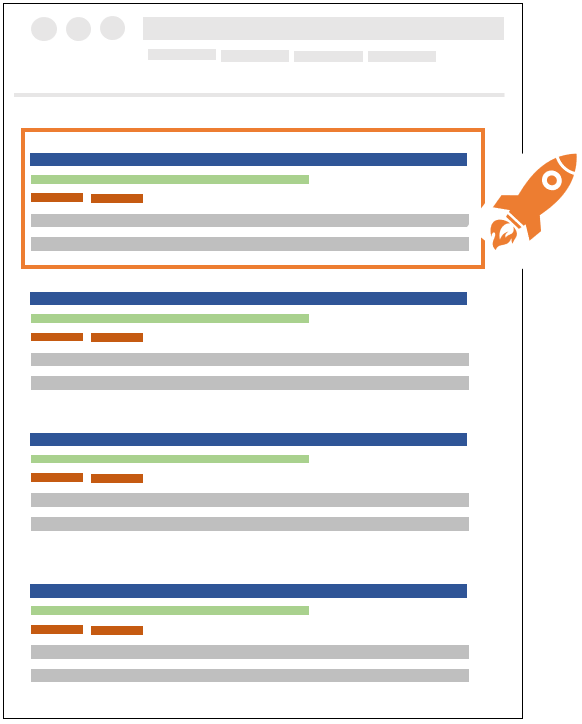 1. How can you optimize your link building strategies with the help of PR?
2. How can you utilize keyword research to increase the visibility of your pitches and press releases?
3. What is Search Engine Visibility? Why is PR so crucial in a brand's search success?
---
How is PR Related to Link Building?
Traditionally speaking, PR has been a brilliant medium of establishing SEO authority by achieving top quality backlinks for a brand. The net total along with the overall quality of backlinks are crucial indicators of your site's credibility in the eyes of a Search Engine. So, the more you can earn high-quality backlinks, the more likely it is that your website will receive an upgrade in search algorithms.
Link Equity
(also known as Link Juice)
Link equity is a commonly used term in the SEO world to suggest the worth or value passed from one webpage or website to another. It is an important criterion of search engine ranking that is based on the notion that certain links provide value to your website. You can either receive or pass this value via hyperlinks. Search engines view these links as votes or confirmation given by other websites that your page is credible and worth following.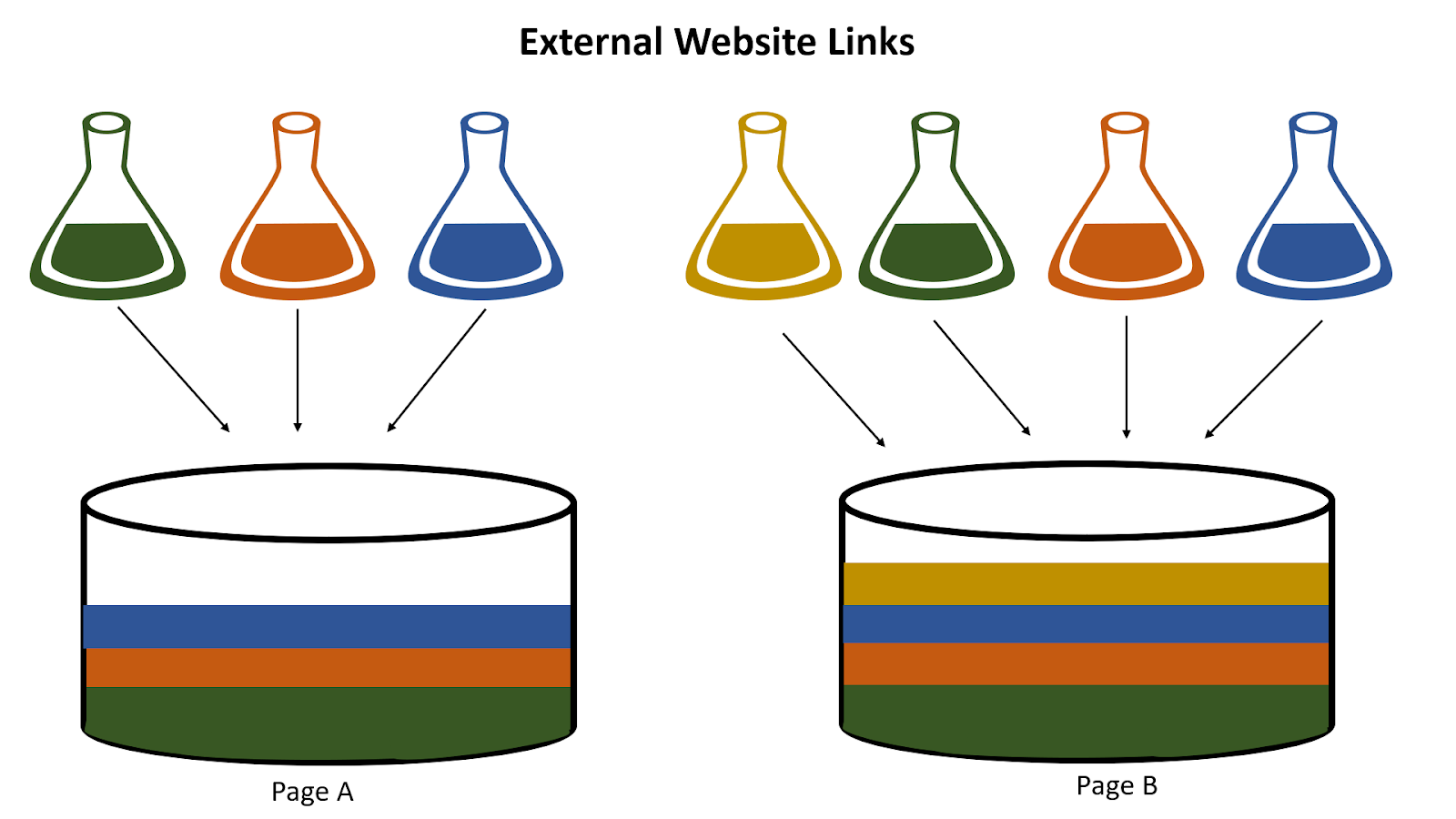 ---
Do-follow Links
A do-follow backlink is the type of link you desire the most. Because it transfers 'juice' to your website, it will help you increase your SEO ranking and add value to your site. Note that backlinks coming from sites that have more authority hold more value. However, you should steer clear of do-follow backlinks that come from suspicious sites. These are 'toxic' backlinks that you should avoid at all costs.
No-follow Links
The name 'no-follow' pretty much sums it up. A no-follow backlink is the type of link that DOES NOT add value to your website. Publishers include a 'rel=nofollow' HTML tag for a no-follow link. Hence, a no-follow link does not transfer any link juice to your site, nor does it help you increase your search engine rankings.
When you look at it as a website visitor, you probably won't be able to tell the difference. But in the world of HTML, this is how it looks like:
Do-follow Link: <a href= "https://backlinkseo.com/blog" >
No-Follow Link: <a href= "https://backlinkseo.com/blog" rel= "nofollow" >
When Do You Have No-follow Links?
Affiliate Content: In the case of affiliate content, authors and publishers will generally add a no-follow tag to 'Purchase Now' options and then link to Amazon, Flipkart, eBay, etc.
Contributor Content: Google recommends tagging do-follow links to the content written by staff writers only. This is done to restrict the sale of links to high-quality links. To discourage the "sale" of high-quality links, Google recommends restricting "follow links" only to staff writers. Again, if, in any case, a publisher lets several contributors add their content, it is natural to make all the links they attach no-follow links.
Other types of self-published content: Generally, links posted on social media platforms are no-follow.
---
Crafting your content right can grab your prospect's attention more than you know. The traditional PR approach may be obsolete but modern PR tactics still add value to your search engine ranking.
When you build up a press release, make sure you not only emphasize on the story's field of focus but also tie it to search engine optimization. This will help you attract prospects of your niche.

Choose Your Keyword Wisely
When you think of a key phrase, you need to ensure you utilize it the right way. If it aligns with how people look for that product or service, your chances of remaining at the top of the search engine results increase drastically. For instance, you think of the keyword 'kayak'. In this case, 'lightweight kayak' drives thrice more traffic than 'portable kayak'. These minute details can have a major impact on your search engine optimization.
Quote the Right People
Customers look for assurance all the time. Renowned figures, such as a reputed athlete or a celebrity, social media influencer, etc. may be the subjects of a certain search. Hence, quoting a famous personality of your niche in your press release offers better visibility.

Use Solid Data & Statistics
Search algorithms acknowledge and reward data representations. This is a simple hack that will be picked up by customers and journalists alike. However, not all press release subjects will have this scope, but researching for original content with solid data is worth your time and energy.
Don't Be A Spam Machine
Mindlessly distributing your content across industries that aren't even your concern will get you nowhere. And with SEO, you can even be penalized for this kind of action. Remember when we talked about toxic backlinks? Even if you get a do-follow backlink from a site of questionable credibility, it will impact your page rank negatively. It is important you distribute your content wisely. Disseminating your PR without accountability is the last thing you need.
TITLE
The optimal length for search engine titles is 60 characters at max. Do not put a descriptive title to incorporate everything into a single line. Be concise, be specific. Make sure your key phrase is present within your title. That's how search engines will know what your press release is focusing on. If your key phrase is 'get backlinks from Medium', you can add the title 'How to Get Backlinks from Medium – Link Building 101'.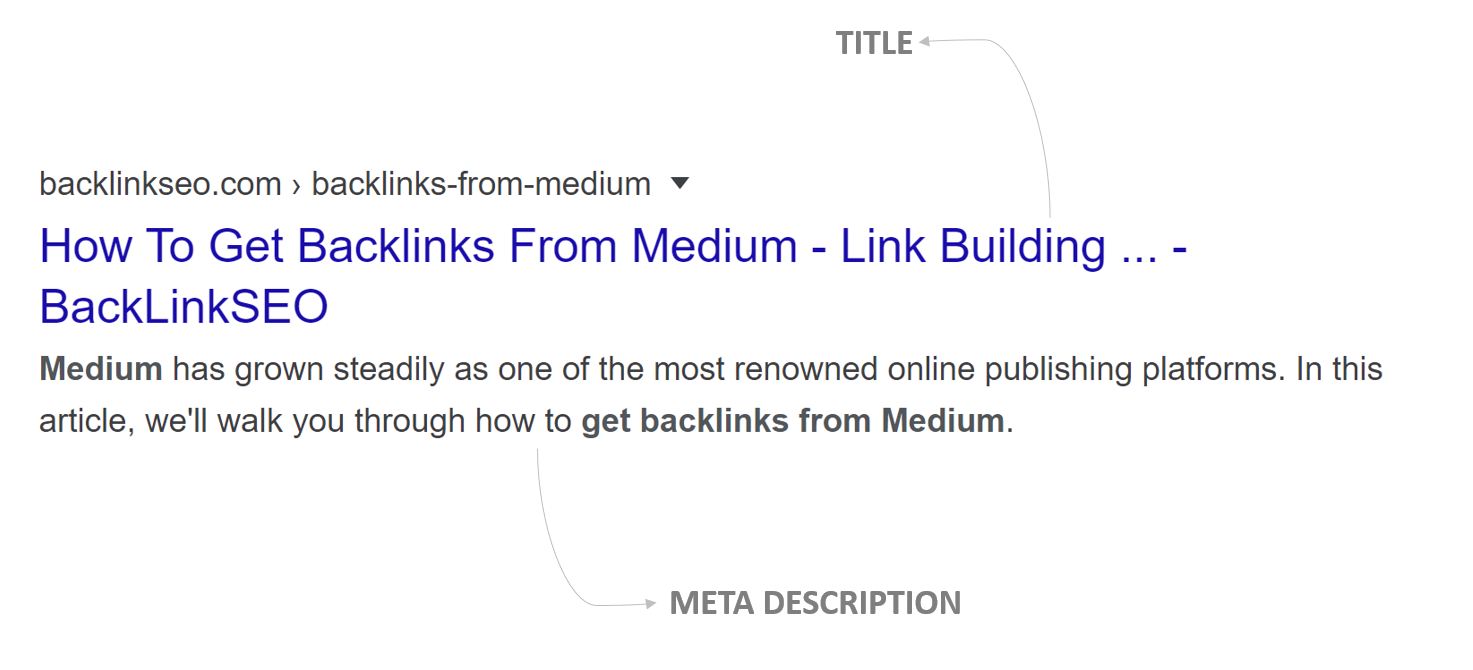 META DESCRIPTION
In a blog post, this section presents itself separately from the text body of the press release. By any chance, if you can't enter the meta description, the first few sentences can be used. Make sure your meta description has your keyword. Keep it concise and limit it to 2-3 sentences. Typically, Google shortens the meta description to 150-160 characters. Make sure your audience understands the theme of your content within that limit.
TEXT BODY
Your focus keyword should be in the title as well as the first paragraph of your text body. Additionally, you should distribute your key phrase evenly within your content. How many times you use it will depend on the length of your text. Make sure you use headings and images to attract your prospects' attention and get them hooked.
---
Search offers PR a highly valuable resource consisting of targeted customers, media, and substantial success metrics.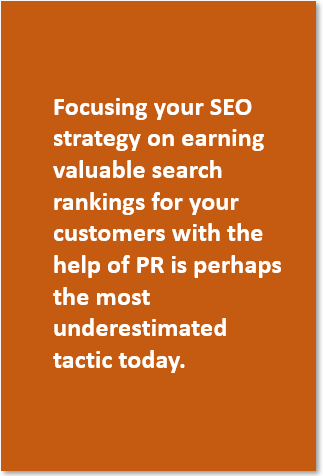 Public Relations has always been a crucial top-of-funnel marketing strategy. By leveraging third-party endorsement, reaching new customers is at the core of this profession. Regardless, it's important to reach the right people – and that is the biggest challenge that SEO experts face now and then.
Suppose you achieved a big PR hit. But how do you measure that? Can you find out how many people saw it? Of the audience who saw it, how many were truly engaged with your content? Did they just skim through or did they actually read up? Are they the people you're trying to target? How many people there wanted to make a purchase decision or implement a call-to-action?
---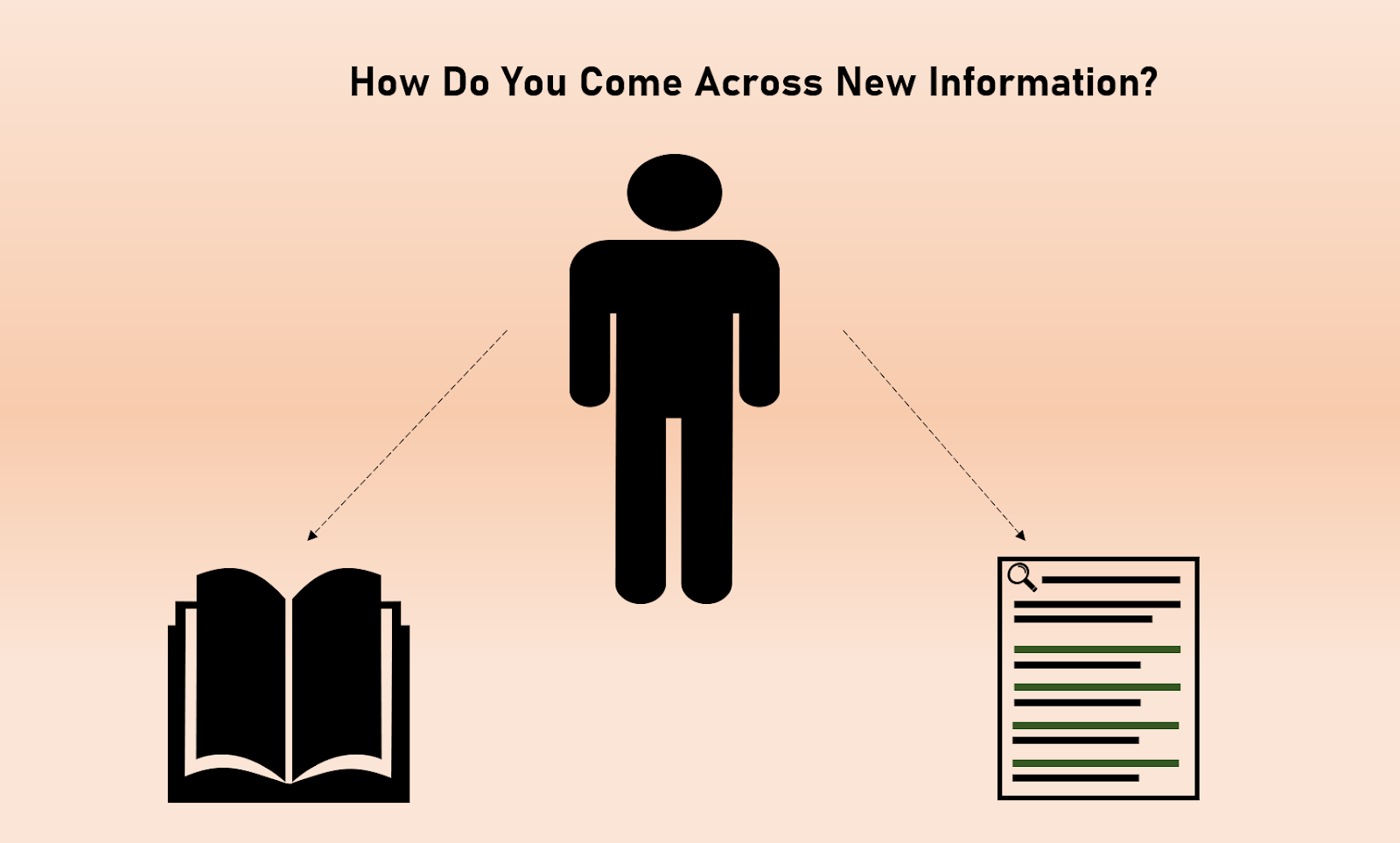 Search Engine Visibility (also known as SEO Visibility)
Search Engine Visibility refers to the overall visibility of your website in Search Engine Ranking Results (SERP). Broadly speaking, it is the volume of traffic a website earns from its rankings in the organic search results.
SEO Visibility directly relates to the probability of a customer discovering your product or service while searching for a keyword familiar to your brand.
PR is capable of creating powerful Search Engine Visibility in places where SEO struggles
Websites often face a hard time placing their content within the top search results for non-branded popular key phrases that have informational, navigational, or transactional intent (e.g. 'Best Welding Carts' or 'Where to stay in Long Island?'). Earned Media performs fairly well in this aspect. This creates a potential scope for huge PR wins.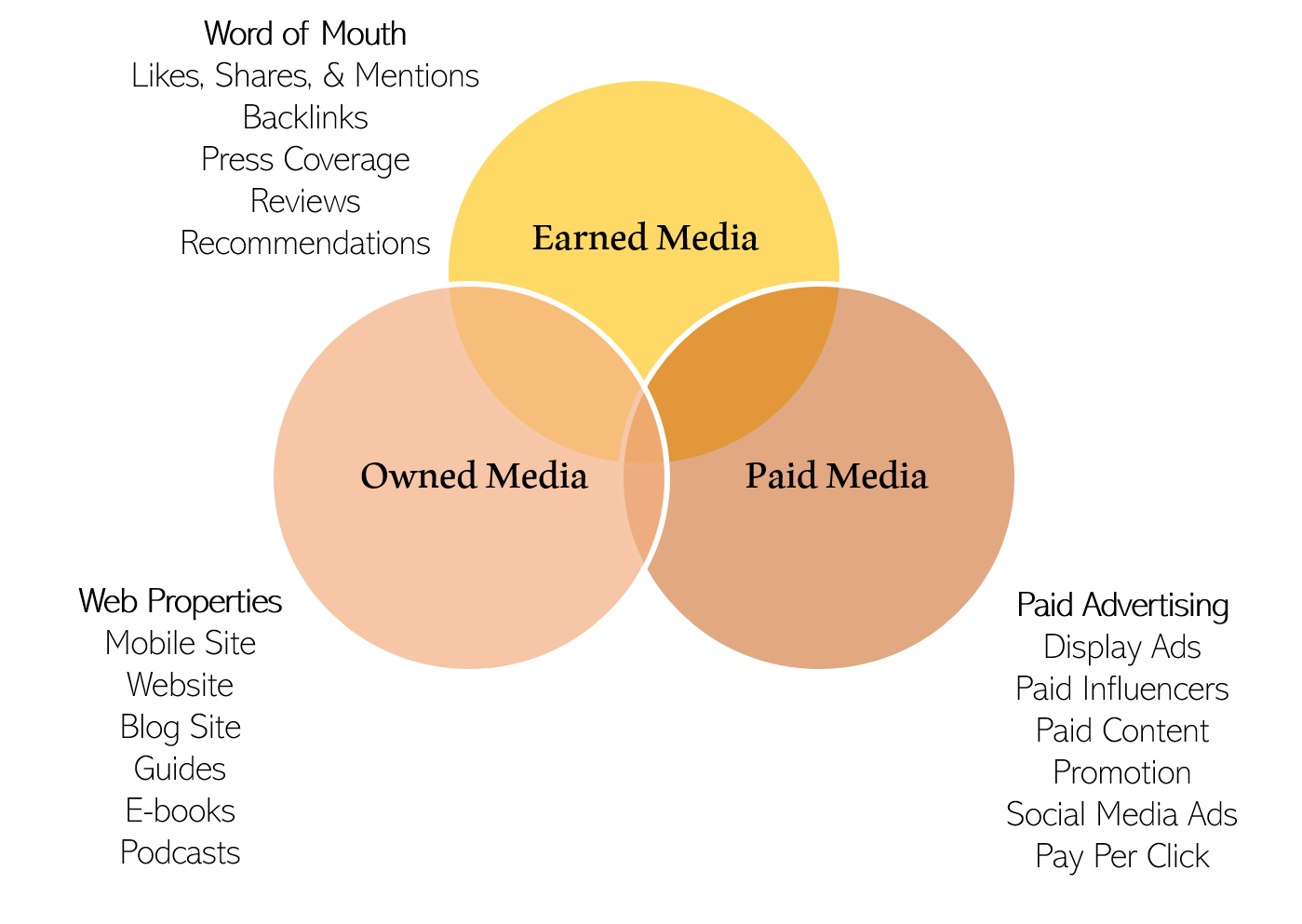 EARNED MEDIA
Earned media is the content that someone else creates for your website but it's a content you didn't have to pay for. It includes word-of-mouth promotion, posts, shares, mentions, reviews, and so on. Good content and strong organic rankings are two of the biggest drivers of earned media. In terms of content, informative, interesting, and qualitative content increases your chances of receiving earned media. This includes:
Press Coverage
Awards and recognitions
Backlinks
Reviews
OWNED MEDIA
Owned media is any form of content that you own and create yourself. You have complete control over your owned media, and it is unique to your brand. This can range from your company blog to your YouTube channel. The more owned media you possess, the higher the chances of getting more exposure in the digital world. Owned media includes:
Websites
Blog posts
Guides, e-books, and whitepapers
Images and videos
Infographics and podcasts
PAID MEDIA
The title explains it all. Paid media is the content you have to pay for to place and promote across different channels. Paid media includes:
Sponsored content
Search ads
Advertorials
Paid affiliate marketing programs
Paid social media marketing
How to Select Keywords That Lead to Earned Media
As mentioned earlier, not all keywords hold the same value. SERP is loaded with a multi-channel sandbox filled with brand-owned sites, e-commerce sites, reference sites, and so on.
Our recommendation would be starting with a list of key phrases your website is always using for its SEO efforts. Thereon, you can start sorting through that list and identify key phrases that result in PR opportunities. Look at this search for instance.
---

BacklinkSEO – The Tool You Need to Audit Brand Presence
PR Visibility Score Percentage of clicks your website receives based on your keyword ranking and average search volume. The greater the score, the better the website's visibility.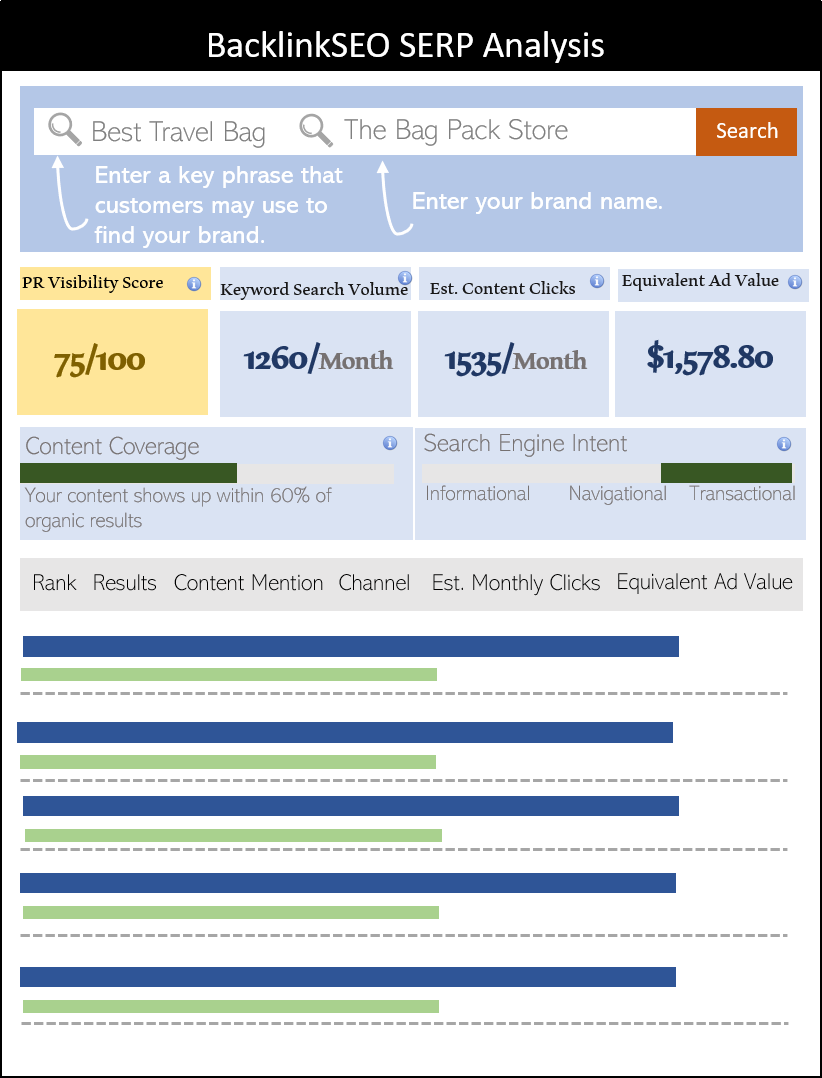 Keyword Search Volume
Indicates the number or volume of searches for a specific keyword within a set time frame. As an SEO enthusiast, it will enable you to see how a keyword drives traffic to your website over time.
Estimated Content Clicks
Refers to the number of visitors you get each month.
Equivalent Advertising Value
With the help of Google Ad Planner, EAV will measure the benefit your website receives from a certain PR campaign or media coverage.
Content Coverage
Shows where your content stands within organic search results.
Search Engine Intent
Refers to the reason behind a searcher's query on a search engine. Understanding why your prospect searches for your service plays a big role in SEO visibility.
---
Key Takeaways
How do you win brand placements and step up your search engine rankings?
Organize Your Key Phrases
Focus on non-branded key phrases. Analyze how a customer can find your product. Set your keywords accordingly.
Evaluate SERP For PR Opportunities
Create a target list of all the media hits within a keyword's SERP and track whether or not your brand was included.
Track your success with BacklinkSEO
Use BacklinkSEO to track the visibility of your content within SERP. Open a free account without further ado.