If you're into marketing, especially digital marketing, you must have heard about SERP. SERP is an extensively used buzzword in the field of digital marketing as both bloggers and businesses use it every now and then.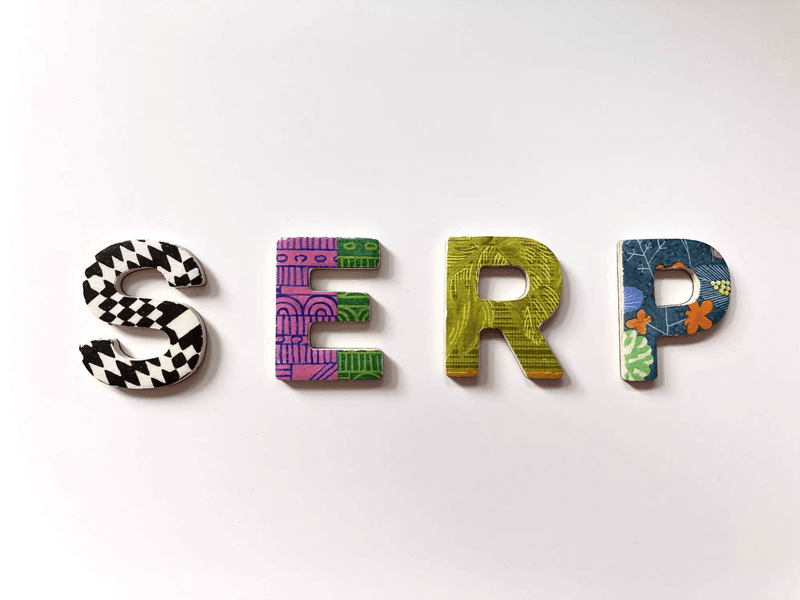 To have your place on SERP requires a proper understanding of how these work and why search engines use them. Find more about some of the SERP components and the requirements that your content needs to meet in this definitive guide.
What Is a SERP?
When users enter a search query, a Search Engine Results Page or SERP appears. Users enter a specific sentence or term, and the search engine displays all the search results associated or comparable to the SERP statement. Most search engines create results based not just on the query but on a wide range of criteria. Each time a user performs a search, this creates a unique SERP.
Apart from the organic search results, SERPs often include paid search and pay-per-click (PPC) adverts.
How Do Search Engines Work?
Search engines display visible content only. Visible sites include those which fulfill particular conditions, for example, that they are available to the public. If a search engine can't locate a website, the SERP won't appear. Search engines carry out three main functions when a site is visible - Crawling, Indexing, and Ranking.

But what do search engines actually do when they carry out these tasks?
Crawling
Search engines have digital bots or digital entities known as crawlers. They visit websites, download pages, search for links, and find out about any page they can on a website. The more pages these crawlers can browse and explore, the more the site is visible. The site must be laid out clearly and efficiently allowing crawlers to perform their task properly.
In no more than three clicks, visitors can find key pages. Crawlers often visit pages, especially when their indexation changes are detected. This updates the data of the search engine on the website for SERPs.
Indexing
Search engines consolidate all information retained by indexing from websites and provide faster answers to queries. Without this method, every document in their database must be scanned by search engines, using huge computing resources and extended periods of time.
Ranking
Search engines classify their content online through crawling. They take into account a variety of factors, for example, page layout, keyword usage, word counts, etc. The better a site is in each section, the higher the search engine rank is for them.
The higher the ranking of a website, the more likely it is to appear on the first SERP. The sites that appear on the top are the most likely to get clicks and traffic for their specified keywords.
How Do Search Engine Results Pages (SERP) Work?
Search engines filter their results according to their relevance to the keyword and the site's overall ranking. Search engines send crawlers to sites for content analysis and to see if their desired criteria are met in those sites.
Two different types of results are shown in SERPs, organic and paid results.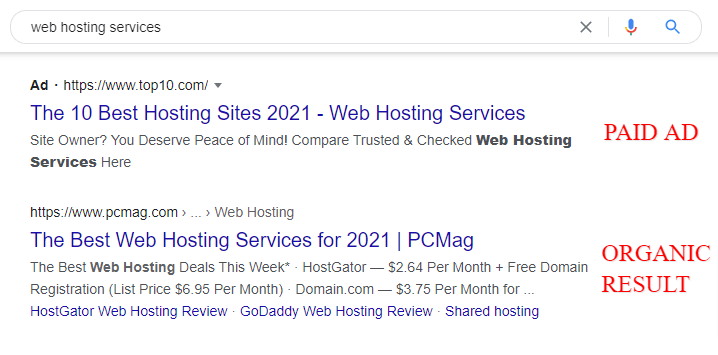 Organic Results
Organic results are all those results that appear because of their relevance to the searched words or phrases. These are natural results that search engines both sort and categorize to best serve your interests.
Results are also sorted by their format. For example, those who follow writing formats outlined by particular search engines and apply best practices are more likely to show up close to the top. This approach assures the best results are always of the best quality.
Paid Ads
Paid results or paid ads are specially outlined for marketing opportunities. They are often displayed before organic results even if there are better and more relevant results. While advertising, their structure resembles that of an actual result, which encourages visitors to click. Companies pay per click for their advertising space.
SERPs and Search Engine Optimization
Search Engine Optimization (SEO) is the process of making your website stand out to search engines. Following specific guidelines and best practices helps search engines rank your website better in search results. The higher your site rank for a chosen keyword is, the more traffic you may receive.
SEO content improves your site's organic search results. It takes effort to optimize, but trustworthiness earned through time often impresses search engine crawlers, causing your content to rank higher. Earning a high rank is difficult depending on the strength of your competitors.
However, you will earn better rankings if you optimize your website to meet search engine standards. When your site ranks on the first page of a SERP, your SEO significantly improves. Your website attracts attention simply for being one of the top results.
Although it is not as important, the amount of positive or meaningful traffic a site receives helps its reputation with search engines. Well-written copy that adheres to SEO principles yields highlighted snippets in search results.
Some best SEO practices are as follows:
Crawler-friendly pages
Content that is well-written and answers a question or satisfies a need
To rank in SERPs, use keyword-optimized content.
Outstanding design and better user experience
Optimized title, meta description, URL, and other metadata for crawlers
When it comes to enhancing your site's placement in SERPs, there are two key categories of SEO to consider:
On-Page SEO
On-page SEO refers to the best practices to boost SEO on specific pages of a website. This includes detailed metadata, one-of-a-kind, short URL structures, important keywords, and solid code that does not slow down page speed.
Off-Page SEO
Off-page SEO, on the other hand, refers to any methods or strategies that increase site-wide SEO. Lead generation, content marketing, submissions to directories, and social media are all common off-page SEO practices.
SEO vs PPC: What are the differences?
Even though they are used in collaboration, there are two major differences between search engine optimization and pay-per-click advertisement. First is that, as previously said, paid ad placements are displayed at the top of the SERPs listing. Since you paid for your spot, your site has the first possibility for clicks.
The second is that SEO generates quality traffic organically. Simply following basic practices ensures that traffic to your site grows gradually. Here are two key differences between SEO and PPC.
SEO vs PPC: Organic vs Paid Traffic
Search engine optimization raises awareness of the site as well as the brand. Your keyword selection increases your visibility in SERPs, resulting in more clicks and sales. SEO, when used correctly and efficiently, provides free advertisement for your website.
When your website appears on organic search engine results pages, it creates and generates trust and reputation. It is not uncommon for people to navigate through PPC advertising and clicking on organic top results only.
Users favor websites that have earned their position at the top rather than those that have purchased their place. It frequently indicates that the site has more up-to-date information.
As a result, SEO offers a greater click-through rate (CTR) than PPC. It drives more traffic to your website without requiring you to invest in a pay-per-click campaign.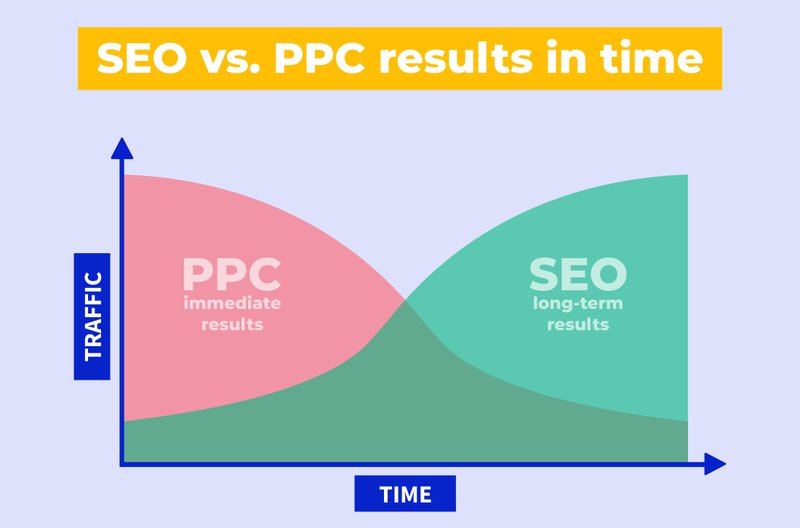 Based on your SEO strategies, generating traffic in this manner is free of cost. Earning visibility requires time and money, but it will not cost you on a per-click or impression basis.
SEO is also more long-term in nature. Building a community through organic traffic is a terrific approach to keep consumers coming back, even when there isn't much content.
On the other hand, paid ads only lead traffic to your site for the duration of the ad. Once it has run its course, the number of new visitors you receive gradually decreases, and your traffic is mostly made up of recurring users.
Organic traffic also enhances return on investment (ROI). If you opt not to spend a lot of money on SEO, the ROI is usually higher than with PPC ads.
Using SEO practices wins you increased clicks over the course of your site's life. Keyword research is critical in this regard because it has a major effect on your SEO performance and the exposure of your website.
SEO vs PPC: Targeted Visibility
You could target particular, niche audiences with PPC. You can configure your campaign to run on specified keywords, hours of the day, days of the week, or even by geographic region. Basically, you have almost complete control over who sees and when they receive your content.
Using a pay-per-click ad quickly boosts your rating in search engine results pages (SERPs). You buy your way to the top, resulting in an immediate increase in clicks and impressions. Even if they choose to browse past an ad and a link to your website, users will still see them.
PPC advertising is usually quite customizable as well. You can customize the page to which you link, the content displayed in the summary, and even include a phone number or other useful link for possible clicks.
Although it is costly, PPC enables budget control to guarantee that campaigns are not overspent. You can decide how much money you would like to spend on the ad and put it into the campaign settings. When you hit your spending limit, the campaign will come to a halt. If you hit your limit early, there could be an issue with your campaign setup.
While SEO takes effort, PPC ads produce almost instant results. Good PPC campaigns are developed in a matter of days and implemented in a matter of minutes. SEO necessitates long-term planning and professional implementation of best practices, which might take a year or more to reap the benefits.
A/B testing is also possible with PPC advertising. This type of testing examines two distinct ideas and determines which works better. Since you wouldn't have to wait for the results, you can easily evaluate multiple keywords or ad focuses in a controlled setting.
Use the findings from these testing in your other digital marketing activities as well. As a result, you may quickly and efficiently evaluate new brand messages or products without having a significant influence on your end result.
It is up to you to choose your favorite strategy of getting traffic based on personal tastes or business goals.
Choose a PPC campaign, for example, if your website is new and you want to increase visitors quickly. It can bring you moderate traffic in a short period of time. In the beginning, it may be enough to pique the interest of a recurring audience.
If you prefer a long-term commitment and a sustainable site, SEO can be your best alternative.
The most frequent strategy for most webmasters is to combine SEO with PPC. To generate organic traffic, apply the best practices on your website. Continue to use it to promote your brand, business, and network.
Implement a PPC campaign whether you're planning a special event, a sale, or just want to increase visitors. It provides the extra boost you may require to boost your typical number of users.
Frequently Asked Questions
How does PPC or Pay-Per-Click Work?
PPC or Pay-Per-Click is an online marketing model where marketers pay a little amount every time an ad is clicked. It is an additional method to bring traffic to your site by buying a user's click and not by organic searches. Search engine advertising is one of the most used ways to determine the use of PPC techniques because of its simplicity of use. Advertisers select a set of keywords or phrases and place them on a sponsored search engine.
How to Manage PPC Campaigns?
PPC programs necessitate ongoing monitoring and maintenance. This guarantees that they continue to be productive throughout their whole life cycle. Analyze your strategy and consider making changes in some of the following areas as needed:
Leaving out expensive, underperforming keywords
Including new keywords
Adding negative keywords
Redesigning or modifying landing pages and other helpful sections
How to rank higher in SERPs?
Search engines' algorithms are constantly changing to suit new requirements and trends. This includes their standards for websites to appear at the top of search engine results pages (SERPs). Ranking higher in SERPs require a robust SEO strategy, along with a reliable backlink checker like BacklinkSEO.
Create a free account today on BacklinkSEO to stay on top of your backlink profile and boost your search rankings!