Learn about the 6 best link analysis software you could get in 2020. Have a better understanding of the links from other websites to yours. Compare features, prices, and reviews before you decide on one!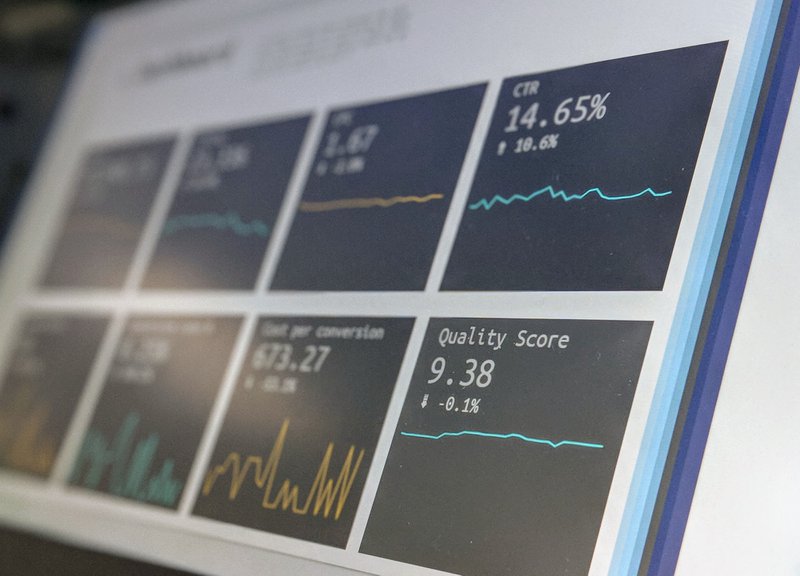 If it has been a while since you have built your website, chances are you have several backlinks. And backlinks are crucial if you want your page to rank high on SERPs. So when it comes to backlinks, the more, the merrier, right?
Well, yes and no. A higher number of backlinks is believed to have higher referral traffic or convey better signals to search engines, but that's not necessarily true—quality matters, not quantity.
Your rankings will soar if you can get backlinks from relevant websites with high domain authority. Thus, not all backlinks are good, which makes link analysis incredibly important. Without good links, your page will not rank on the first page. And who even checks the second page nowadays?
Moz SEO conducted interviews with marketing experts and found out that backlinks are the most critical factors in SERP rankings.
Link analysis, however, is not a piece of cake. But investing in a good link analysis software can make life, and ranking high on SERPs, easy for you. This article will break down the 6 best link analysis software you can find in 2020. You will learn about their features and the starting prices. And also, stay tuned to know which ones offer handy SEO tools for free!
If your website has been built only very recently, this may not be a matter of concern to you just yet. But if you are here for the long haul, keep reading on!
Having a thorough understanding of your backlink profile is critical if you want your website to rank high. And for this, there is no better link analysis software than BacklinkSEO.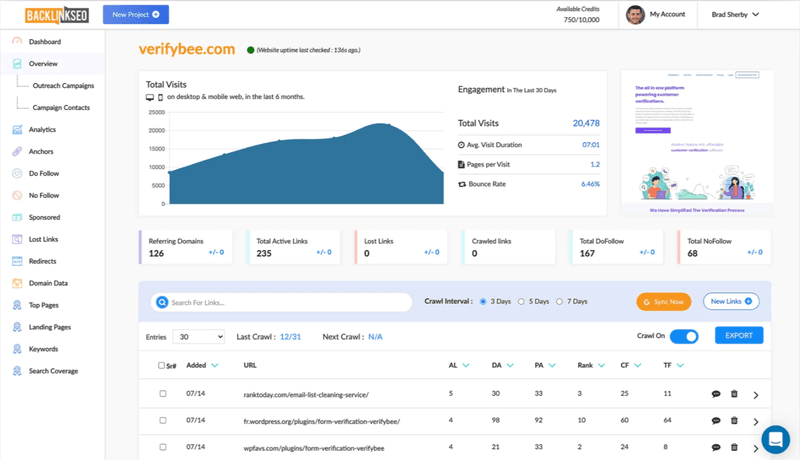 Features
Get a detailed view of backlinks categorized into do-follow and no-follow
See the domain authority, page authority, trust flow, Moz rank, citation flow, and anchor text for active and lost links
Get automated alerts about changes in the do-follow status
Add notes to specific links to find them easily
Identify spammy links
Observe trends in your website's number of visits and the different types of links using graphs
Gain competitor insights
Pricing
BacklinkSEO offers you many tools for free. You can get access to all those resources by making a free account. However, to get access to better facilities, you can choose any of their 4 paid plans.
The Solo plan starts at $10 per month, which will allow you to have 1,000 backlinks monitored per month, keep 3 domains, and many more features.
The highest that BacklinkSEO can cost you is $99 per month for their Agency plan. You can monitor 15,000 backlinks per month and keep 50 domains.
Click here to view all the plans side-by-side and get started with the one you like the most!
Reviews
Capterra's rating: 4.8/5
Users have praised the helpful customer support. Others have talked about how it helped them grow backlinks through the outreach campaigns.
However, some users have said that the backlink database is still not adequate. They hope that it improves. Others do not like the UI.
In conclusion
BacklinkSEO helps you improve in every aspect of your SEO efforts and optimize your website for the best quality traffic. And they have more exciting tools coming up!
You need high-performing tools to understand your link profile and improve your rankings. There are many link analysis software in the market, but you can be assured that BacklinkSEO is the very best.
Ahrefs is one of the most popular SEO tool-sets in the market, whose quality of data is very praiseworthy.
"With Ahrefs, you don't have to be an SEO pro to rank higher and get more traffic.
Ahrefs is an All-in-one SEO toolset with free learning materials and a passionate community & support", the website promises.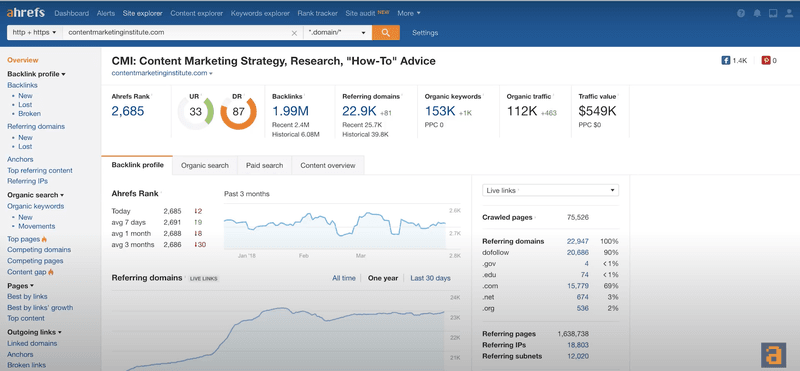 Features
See the number of backlinks and referring domains, categorized into three indexes: Live, Recent, and Historical.
Observe trends using graphs showing new and lost backlinks and referring domains
Check if specific domains are linking to the website you're analyzing.
Analyze anchor text.
Pricing
Prices start at $99 per month for their Lite Plan. Their most popular plan costs $179 a month. Billing annually will save you some money, though.
Moreover, you can buy a 7-day-trial for $7. The trial is available only for its Lite and Standard plans.
Click here to compare the plans.
Reviews
Capterra's rating: 4.8/5
G2G's rating: 4.6/5
The accuracy and profundity of Ahrefs's data are loved by many. Users have also praised the filtering options.
However, some have complained about the time it takes to crawl new backlinks.
In conclusion
According to Sam Oh, the Director of Product Education at Ahrefs, the Site Explorer is better suited for websites with smaller backlinks. The reason is that, with popular websites that have thousands of backlinks, analyzing the vast amount of data that Site Explorer will come up with may feel overwhelming. So if your website is relatively new and growing, you can consider Ahrefs for link analysis!
Ahrefs is one of the most trusted companies for SEO tools and a favorite of many in the industry.
Ubersuggest promises to help you "win the game of SEO" on its section of Neil Patel's site. So, from the get-go, you know that your goals are aligned.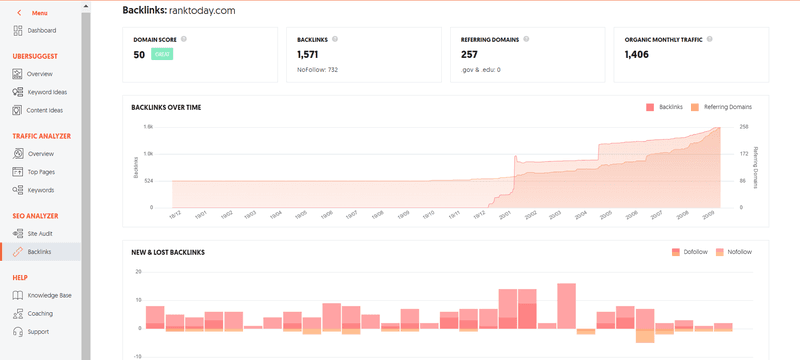 Features
See your backlinks, referring domains, and the number of ".edu" and ".gov" links.
View the domain score, page score, link type, anchor text, dates first and last seen, and target page for backlinks.
Know how your links (new/lost, do-follow/no-follow) are growing over time using visuals.
Use the advanced filters to view the data you need or only show the best link per domain.
Pricing
Ubersuggest offers a lot of really useful tools for free. Their plans start at $12 per month for their Individual plan for managing 1 to 3 websites and go up to $40 per month for their Enterprise/Agency plan.
They also have a unique offer: lifetime access, starting at $120 for the Individual plan.
Want some good news? You can take a free 7-day trial for any of the plans.
Reviews
TrustRadius's rating: 9.5/10
Producthunt's rating: 4.9/5
Users have praised how easy it is to use Ubersuggest. Many love its keyword research tool and value-for-money too.
There aren't many common complaints, but some wish that it would show difficulty for organic search.
In conclusion
You can rely on Ubersuggest to help you improve your website's rankings, just as it has helped over 50,000 users.
Link Explorer has replaced the Open Site Explorer offered by Moz, which was quite renowned. Fear not, because Moz claims that Link Explorer comes with a "new set of link analysis and competitive research tools, powered by a brand new and robust live link index."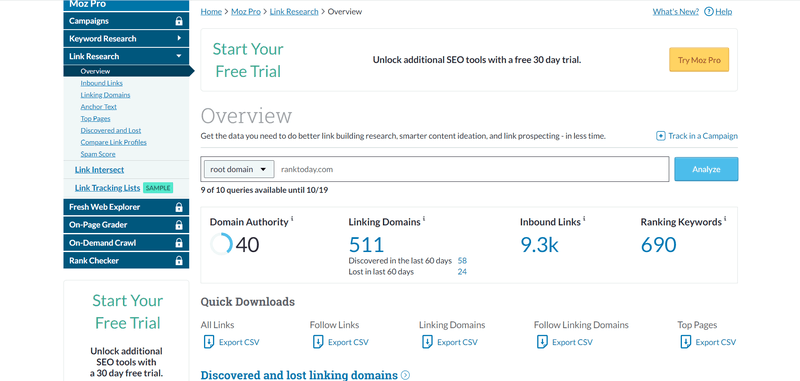 Features
Learn the number of inbound links, linking domains that were recently found and lost, top anchor text, and ranking keywords for your website.
See the growth of new and lost linking domains, domain authority, page authority, do-follow, and no-follow backlinks for your website using visuals.
Identify bad links using the spam score.
See the anchor text, domain authority, page authority, dates first, and last seen and linking domains for those backlinks.
Compare link profiles with your competitors.
Use Link Intersect to view who is linking to your competitors but not to you.
Pricing
Moz offers you some SEO tools to start for free, which you can explore here.
Starting from $99 per month and going up to $599 per month, Moz offers a 20 percent discount if you pay yearly rather than monthly.
The best part? You can access a 30-day trial to their most popular plan for free!
Click here to know the details.
Reviews
Capterra's rating: 4.4/5
G2G's rating: 4.4/5
Users have praised Moz Pro's emails about their sites' performance and the keyword research tool. Some have specifically mentioned how they like link analysis tools.
It is difficult to find common complaints, but some users found it difficult to navigate the different tools. Users have also mentioned how it isn't the best for large organizations.
In conclusion
Link Explorer by Moz is an amazing tool that is sure to help you with your SEO efforts.
Majestic SEO is a good tool for link analysis and for taking help from when developing SEO strategies. As the name suggests, it is a majestic toolset you could use to cater to your organization's needs.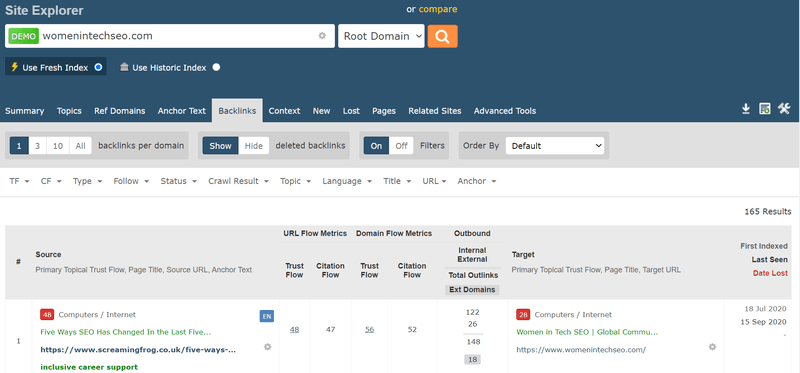 Features
View the number o referring domains, referring IPs, and referring subnets and external backlinks categorized as "fresh" or historic.
See the number of links by type, such as redirects, text links, images, frames, live, deleted, do-follow, no-follow, and more.
View the link density for top inbound links.
Have important information presented visually with the backlink history chart and the anchor text charts.
Pricing
Majestic SEO shows some data for free. But, to get a good amount of information, you will need to get the paid version.
Their plans start at £39.99 a month and go up to £319.99.
Reviews
G2G's rating: 4.2/5
TrustRadius's rating: 8.6/10
Many users have praised the software's ability to produce customized reports. Its backlink tracking ability is also lauded by many. Users also like the fact that it ranks the trust factor of domains. If you are worried about researching your competitors' strategies- well, some users have praised that too about Majestic SEO!
However, we saw mixed opinions about the user interface. Users also said that there is not enough support from the company regarding how to use their products.
In conclusion
The depth of the information that Majestic SEO provides is very helpful. No wonder many professionals in the field like this software!
SEMrush promises that it is the "all-in-one marketing toolkit for digital marketing professionals." With renowned users like eBay and Quora, SEMrush offers a wide range of marketing tools, including link analysis software. Let's look at the features that have convinced 6 million users!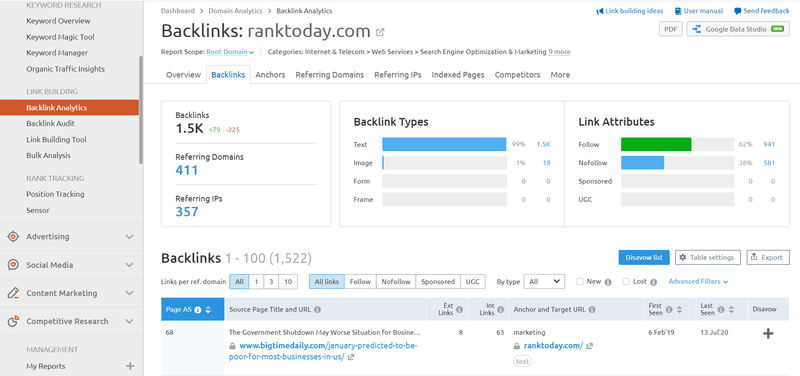 Features
See details about backlinks, anchors, referring domains, referring IPs, and indexed pages
Look at charts visualizing the number of backlinks by type, link attributes, link profile distribution, and TLD distribution.
View the trust score, target URL, page score, the dates first seen and last seen for your backlinks.
See metrics of your competitors
Remove bad links that impede high rankings
Find link building opportunities
Pricing
Not only does SEMrush offer a 7-day free trial, but you can also save 16 percent if you choose to bill yearly. They have a 10-requests-per-day limit for free users.
Their plans start at $99.95 per month.
However, if you want a customized plan, you can opt for their Enterprise plan. Feel free to contact SEMrush to get a quote!
Reviews
Capterra's rating: 4.6/5
G2G's rating: 4.5/5
Users have appreciated the insights on ranking higher and the competitor analysis feature.
However, some users do complain about the lack of accuracy in historical data and web traffic. Their lack of responsiveness is also something that feels irritating to users, especially since some need help using the variety of tools they offer.
In conclusion
SEMrush is reliable and will adapt to your organization's needs.
Conclusion
Now that we have told you all there is to know about 6 best link analysis software, let us know which one intrigued you the most?
Or did we miss out on a must-have product or feature?
Let us know !