Building backlinks isn't easy, all the more so when you are trying to do it all by yourself. According to a study by Ahrefs, the more backlinks a page has, the more search traffic it gets from Google. So, if you want your website to remain competitive in the search engine results pages (SERPs), you need to pay attention to developing your backlink profile. Link building tools can help you to overcome the challenges associated with acquiring backlinks.
Now, you probably already know how taxing 'manual' link building is. You may have to spend hours looking for 'link-able' sites and content ideas and then several more hours reaching out to webmasters. And imagine how much time that adds up to when you are doing it all alone. Not efficient, right?
However, the good news is there are some AMAZING link building tools out there that can help you to build more and better backlinks. By using these link building tools, you will be able to focus on the more important aspects of the search engine optimization (SEO) of your website, such as the quality of your content - one of the most important signals used by Google to rank your website, according to Andrey Lipattsev, Search Quality Senior Strategist at Google.
This article will walk you through the 10 best link building tools for building a greater number of quality backlinks; in other words, white-hat links that Google will give you brownie points for.
Types of link building tools
There are 4 main types:
Link Prospecting Tools: Tools that help you identify relevant linking opportunities.
Link Analysis Tools: Tools that help you to shortlist domains by analyzing their site metrics.
Link Outreach Tools: Tools that help you to pitch for links.
Link Management Tools: Tools that help you to track your existing backlinks.
We will discuss all 4 types in this article. Without further ado, let's dive in!
10 Best Link Building Tools for Building Quality Backlinks
The first one up on our list is BacklinkSEO. This tool is perfect for the entire process of link building.
Although BacklinkSEO is a new player in the arena for link-building tools, it has garnered all positive reviews and has been hailed to have competitive features that have the potential to be at par with that of industry leaders.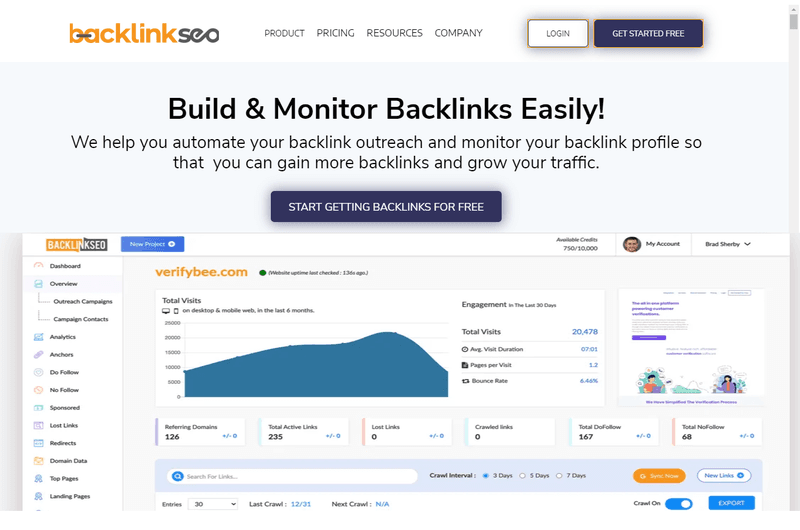 Features
Backlink Overview: Gives you a detailed view of your website's backlink profile by integrating data pulled in from your Google Analytics and Google Search Console Account. You can easily identify quality backlinks through domain enrichment data, which provides information on metrics such as domain authority, page authority trust flow, etc.
Backlink Outreach: BacklinkSEO offers an automated outreach system for which you don't have to spend hours on creating lists of prospects, drafting emails for each prospect, following up on them, etc. There is a collection of campaigns and email templates, including those curated to pitch for: building relationships, the skyscraper method, round-up posts, guest posts, etc. Built-in integration with email finders like Hunter.io and Snov.io makes the outreach process much smoother.
Dofollow / Nofollow Monitoring: The system detects your links' heartbeat while you focus on your business. You will receive alerts when a link changes from do-follow to no-follow (and vice versa) or gets dropped.
Link Distribution: This feature enables you to understand your link distribution so that you can identify the pages that are in need of more backlinks. It gives you an in-depth analysis of each of your top pages and the links pointing to them. You are also able to identify internal link building opportunities, which is equally as important as inbound links.
Competitor Insights: This feature is useful for link prospecting. You can find your competitors' metrics and see what's helping them grow and gain traffic so that you can replicate it for your own website.
Team collaboration: It is extremely easy to set up additional user accounts if you are a medium to a large-sized agency with a lot of team members. You can also set up additional access permissions for each team member.
Support: Live chat support is available on the website as well as within the app dashboard to provide users with instant customer support. There is a public roadmap so that users can have a glance at current and upcoming features.
Pricing
The pricing ranges from $10 to $99, and there are 4 plans that you can choose from depending on your requirements: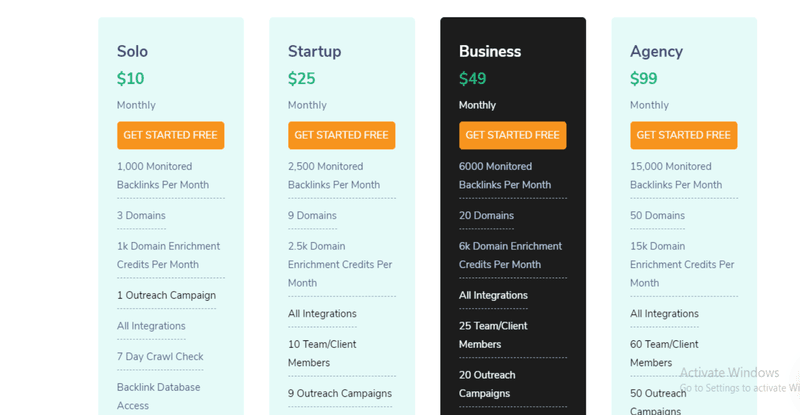 Ahrefs is dubbed as the world's largest backlink index in the digital marketing community. It gives you a very comprehensive list of backlinks to any website, resulting in improved identification of link building opportunities.
Although it has several tools for the overall SEO management of websites, we will give you an overview of the tools best suited for link prospecting and link analysis: Site Explorer, Link Analysis Tool, and Batch Analysis Tool.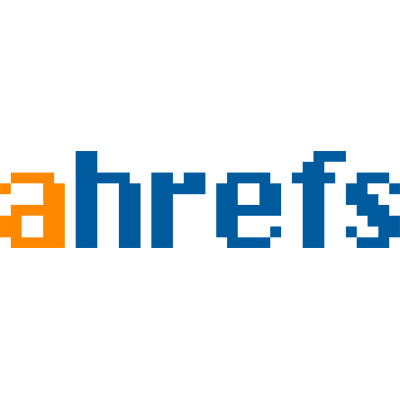 This tool helps you to find link-building opportunities by analyzing your competitors' site and their backlink profile. It has several other features, but we'll discuss the ones that are related to link building. Using this tool, you can:
Get a list of all backlinks-internal, external, do-follow, and no-follow- pointing to a target website or URL.
Create "linkable assets".
Identify broken links on your competitors' backlink profile
Research outgoing links of a target website to understand the website's linking patterns.
These features enable you to keep an eye on your competitor's best-performing content so that you can uncover what's working for them (as well as what isn't) and replicate that for your own website. What's more, you can examine what sort of public relations (PR) attention your competitors are getting so that you can reach out to the right journalists and media outlets.
Ahrefs' Link Intersect tool gives you the chance to identify pages that are linking to your competitors but not to you.
If these websites are already linking to your competitors there's no good reason as to why they shouldn't link to your website as well, right? By chasing up these prospects, you can bag some relatively easy backlinks. This tool is especially helpful for finding opportunities to get featured in industry round-up posts.
This falls under the category of link analysis tools.
Once you have a list of all your link building opportunities, how do you decide which ones to prioritize? But having to do that manually for each domain would take such a long time! This is where the Batch Analysis Tool comes in.
This tool enables you to pull up Ahrefs' SEO metrics for up to 200 websites or web pages all at once. You'll have access to important metrics such as domain rating, URL rating, approximate organic traffic, the estimated number of keywords for which the site ranks.
If you manage to get a backlink from a site that fares well on all three of the above metrics through, for instance, a successful guest post pitch, your content is likely to garner more eyeballs. Besides, it's no secret that a backlink from an authoritative site can better help you to climb up the SERPs than a backlink from a less authoritative site.
You can sort the results by estimated traffic and domain authority to get an idea of which prospects you should focus on first. Once you're done, you can export your consolidated list with one-click for easy reference.
Pricing
Okay, so here comes the slightly inflexible part with using Ahrefs' solely for the purpose of link building.
There are both free and paid options available. Only Site Explorer and SIte Audit are offered for free as a package. The rest of the tools are all paid for and can't be purchased in isolation from one another.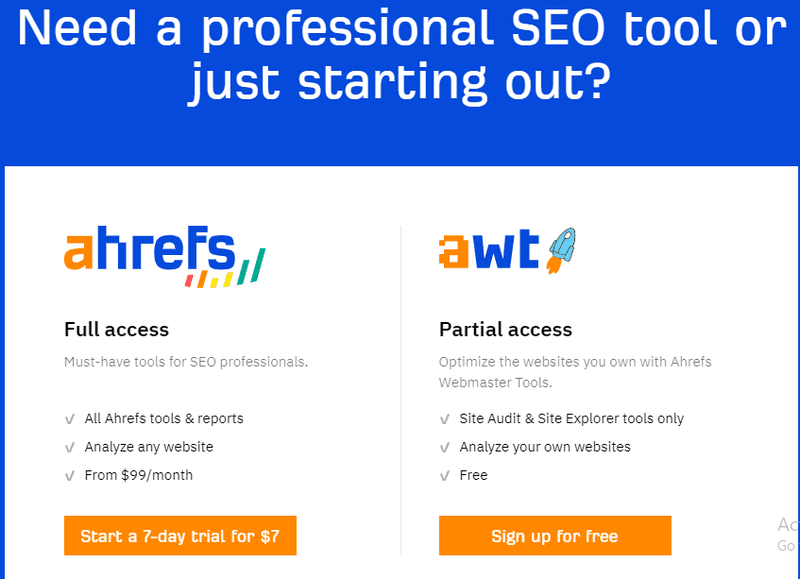 If you want to use the aforementioned tools for link building, you will have to purchase the entire package of SEO management tools that Ahrefs' offers.
You can also opt for a 7-day free trial priced at $7.
Here's what the full set of pricing plans looks like: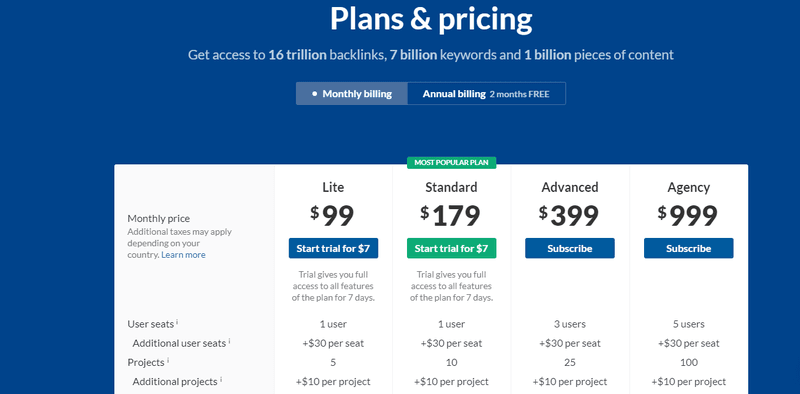 The next tool on our list is great for link prospecting and analysis.
Once upon a time, Google ScrapeBox was used for black-hat link building through, for instance, mass blog commenting. However, while black-hat link building techniques have become obsolete today, novel uses of this nifty tool have emerged. And these new ways are some excellent ways to build white-hat links.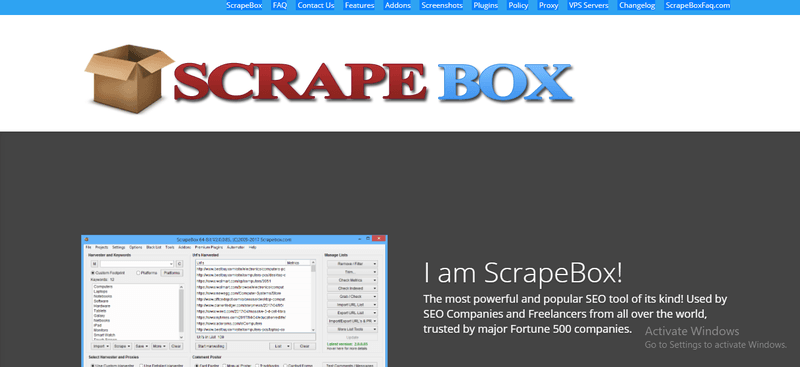 ScrapeBox is basically a tool that helps you to filter search results from all search engines combined; it gives you the most "polished" search results for your search queries.
Features
Search Engine Harvester: This enables you to harvest thousands of URLs from over 30 search engines such as Google, Yahoo, and Bing in seconds. For instance, you may insert the target keyword "digital marketing for small businesses" and run a search on ScrapeBox. You can then qualify these prospects and reach out to those that seem like a good fit for you to promote your content around the target keyword.
Link checker: Scans thousands of pages to check your backlinks and the anchor text
Proxy harvester: Powerful proxy harvester and tester which ensures the security of your search. More on this later.
Keyword harvester: Produces thousands of long-tail keywords from a single base keyword.
However, for best results, you need to tweak the structure of your search queries by using Google's advanced search operators. These operators help you to narrow down your search results so that your search intent is satisfied.
Here are some examples:
Use "Site: [input search query here]" to limit your search to a single site.
In "Apple - fruit" minus (-) is used to exclude search results that contain apple as a fruit.
Use "related: huffpost.com" to see sites that are related to or similar to your target domain, in this case, HuffPost.
Use "intitle: write for us" to look up guest-blogging opportunities. This way you will search only in the page's title for the phrase "write for us", saving you both time and energy scouring through websites to find those that are open to guest posts.
There are tons of advanced search operators that you can combine together to find link building opportunities. From finding websites that are accepting guest posts and infographics to finding resource-based pages on your niche, these advanced operators have widespread reach.
Once you're done researching your link building opportunities, the next step is to "extract" these results from Google and analyze their SEO metrics.
Proxies
For executing this next step effectively, it is best if you use "proxies". According to Varonis, a proxy server acts as a gateway between you and the internet. It's an intermediary server separating end users from the websites they browse. In other words, proxies enable you to make numerous requests to carry out certain activities such as scraping Google search results at scale.
The catch here is that these proxies need to be bought and proxies can be expensive. The price per proxy starts at $1.49.
Pricing
You can start using ScrapeBox with a one-time payment of $97. This comes with free proxies, but the best ones are the paid ones.
Linkody is a fantastic tool for link prospecting and link management without being too heavy on your pockets.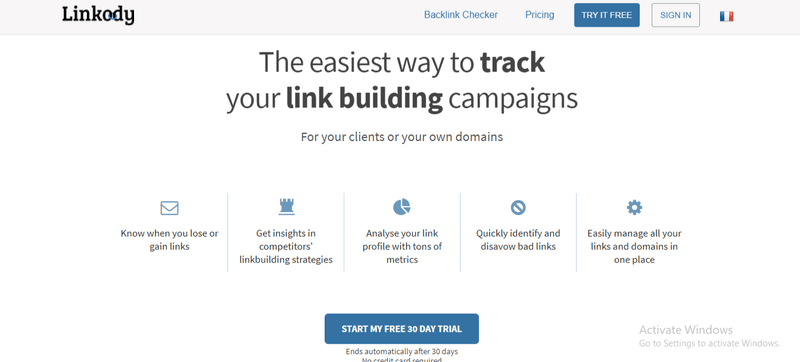 Features that are helpful for link building
Backlink Checking and Monitoring Service: Provides daily notifications on lost backlinks, new backlinks, and changes in the statuses of backlinks.
Competitor Research: Enables you to check the source of your competitors' backlinks so that you can attempt to build similar links or suggest a resource on your site as a replacement for a competitor's link. You can use the "Top Pages" report to identify the tactics and content that are working best for your competitors.
Disavow Rule Generator: Identifies and disavows bad or spammy links that can negatively impact your rankings in the SERP. Although, as per Google's last Penguin update, Google automatically devalues such links, it's important to note that this devaluation is based on an algorithm that may not always be accurate at identifying spammy links.
Pricing
Linkody is one of the most budget-friendly link building tools in the industry with decent features. It may not be as good as the big ones, such as Ahrefs', yet it works pretty well, especially for beginners.
The pricing ranges from $14 to $153 per month. The plans are segregated according to the number of domains, monitored links, and users. A free trial of 30 days is also offered.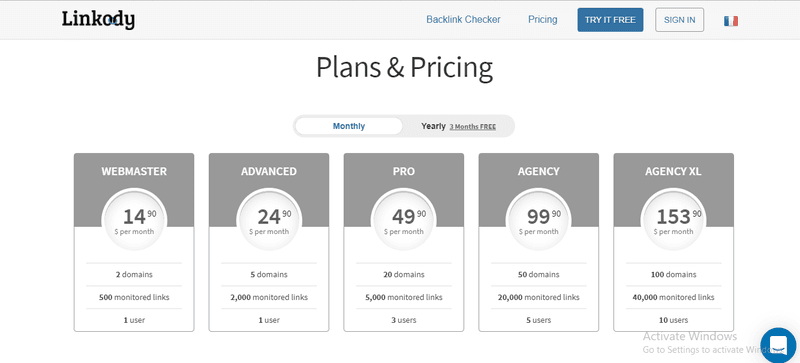 Here's a link outreach tool if you're bored of reading about the other types of link building tools.
BuzzStream is an end-to-end outreach platform that helps you to stay organized with your email outreach and link building results.
In other words, it enables you to manage your outreach process all in one place. You can keep track of conversations and organize campaigns easily across multiple projects. And the part is, you can send customized emails to each prospect, according to the status of your relationship with them. More on this in a bit.
Therefore, if you work in teams or have a large team, this tool comes in really handy.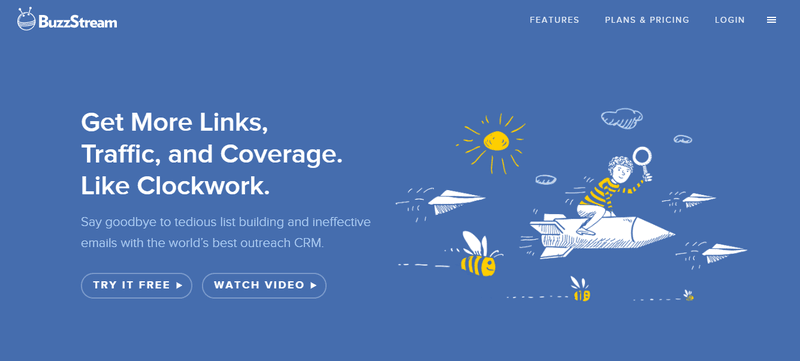 Features
Research Prospects: Enables you to explore link building opportunities and to consolidate a list of prospects along with their contact details. Automatically gathers website and social metrics to aid link analysis
Send Effective Outreach Emails: Send personalized, efficient, relationship-based outreach that gets great results.
Manage Link Building Projects: Allows you to keep your link development projects on track and to check the status of each campaign. You can also set reminders to follow up, track campaign progress, and share tasks with your team.
And here's how the outreach process works on BuzzStream:
Step 1
You may start by using the "Discovery" option if you don't have a list of target websites already. Alternatively, you can upload the list of your target websites.
Step 2
BuzzStream will then find the contact information of these websites using the Buzzmarker Chrome extension. Just input the information as required.
Step 3
To reach out to prospects from BuzzStream itself, connect your email to BuzzStream.
Step 4
Initiate the outreach process. You can send in personalized mass emails using the "Custom Fields" feature on BuzzStream, as we mentioned earlier.
This feature enables you to choose your "Relationship Stage" with the prospect. You can create templates curated for each stage and then choose the stage accordingly when you are emailing prospects.
For example, here are the stages used by Brian Dean, founder of Backlinko:
Not Yet Researched
Prepped for Outreach
Not Started (Email queued but not sent)
Attempting to reach
In Talks
Waiting for Result (Pitched content has been sent)
Agreed to Link
Link Accepted
Rejected
You can also add "data points" to custom fields. These can be SEO metrics, such as domain authority or even information about whether they've linked to your competitors. In a nutshell, depending on the type and purpose of outreach, e.g guest posting, you can add items to custom fields to personalize your outreach process.
Pricing
The pricing ranges from $24 to $999 per month, depending on the plan you choose. The plans are divided according to the number of users, and features. A free trial is also available.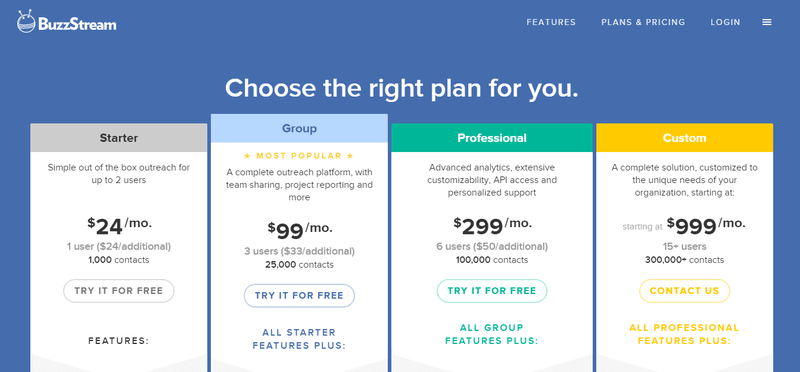 Here's a link outreach tool that comes with a pop of color and a great user interface.
JustReachOut is slightly different from traditional outreach tools because it involves the use of public relations to build links. In other words, it enables you to reach out to reporters, journalists, and press outlets, in addition to bloggers.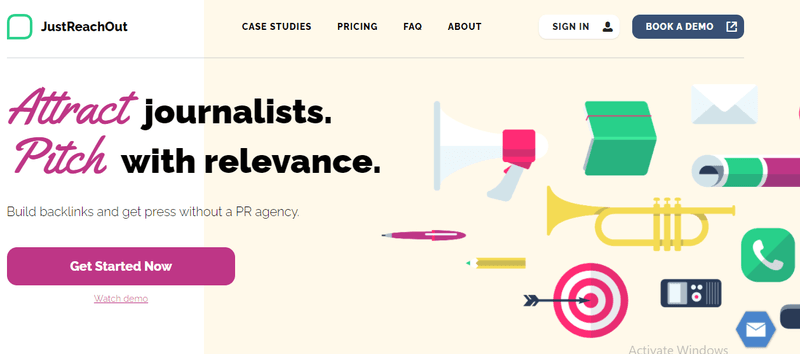 PR is hailed as one of the best link building methods out there. It is a great way to earn powerful links from highly reputable sources, such as HuffPost, Wired, and Forbes.
JustReachOut boasts quite a comprehensive database of journalists, so there' a good chance you'll find at least a couple of media people within your niche.
Features
Search: Helps you to build a targeted list of journalists and influencers with a dedicated search channel for each niche. You can look up source requests from HARO and ProfNet so that your outreach process is further polished by filtering out those who may be unlikely to feature you in their story. This feature also provides daily, weekly, or bi-weekly notifications of new press opportunities based on your searches. Additionally, it identifies broken link-building opportunities from high authority domains pointing to websites in your niche. lets you search for source requests from HARO, ProfNet, and Twitter.
Outreach: Provides pitch templates that yield high open and response rates. Each email address is verified so that you "never get a bounce-back". You can also track your pitch analytics based on insights from their users. Video lessons are offered as well so you can consistently come up with new PR angles and strategies.
Guidance: Make your PR pitch stand out from your competition by using unique conversation starters and PR tactics, all of which are explained in JustReachOut's PR training videos and in-platform guidance.
Pricing
The pricing ranges from $159 to $559, depending on whether you choose "Simple", "Advanced", or "Guided" outreach. Each plan comes with a range of features.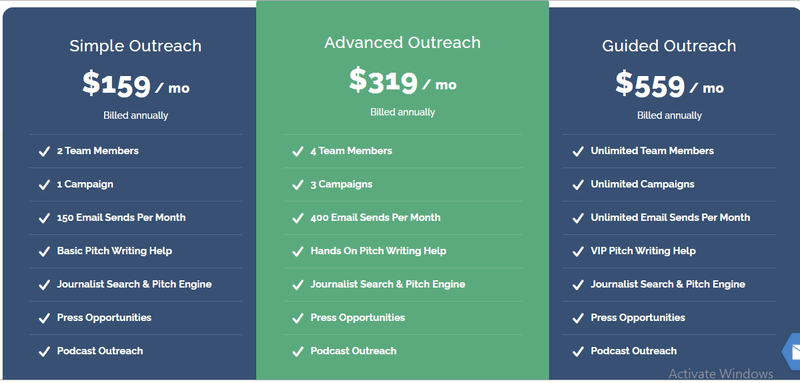 Moz Link Explorer is another great link prospecting and link analysis tool that enables you to check the backlink profile and domain authority of any site. You can also use it for the backlink management of your own website.
In 2018, Moz announced that it is replacing its Open Site Explorer Tool with Link Explorer. This came with several additional features that were absent in Open Site Explorer.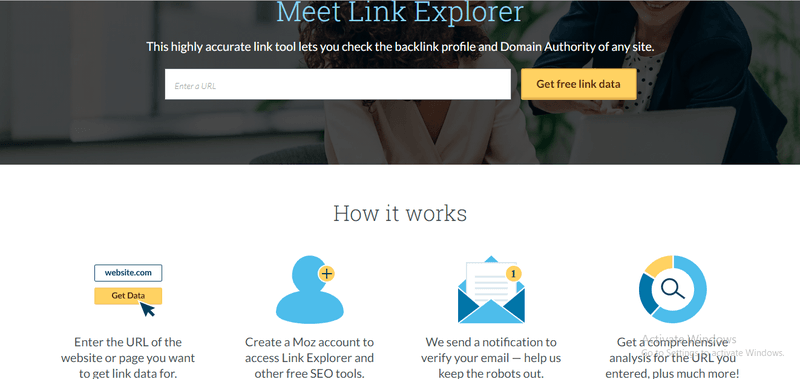 Features
Research competitor backlinks: Compare the building blocks of your competitors' link profiles and identify their sources.
Analyze anchor text: See how sites are linking to you with the full anchor text data for every link, URL, and domain. So, for instance, a large proportion of exact match anchor texts is a red flag and may indicate the use of black hat link-building techniques
See new and lost links: Monitor when your content is gaining or losing links. Discover the most recent links by date.
Daily updates: Link Explorer updates every 24 hours with all the new links discovered on any given date, and gives assigns a DA score accordingly each night.
Link Tracking Lists: You can check a box next to any link you're interested in and build lists in the tool to track them over time. You may do this to see whether/when they link, prioritize your outreach efforts, and get aggregated data and alerts about those links. However, this feature is available only if you upgrade to the Pro version of Moz.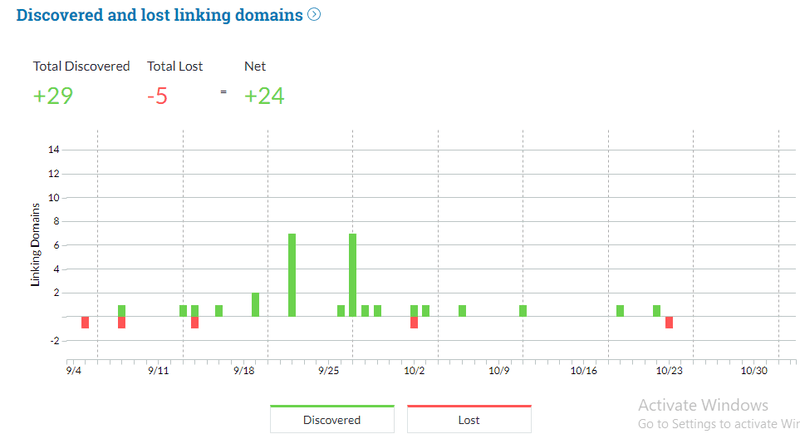 Pricing
Link Explorer is available for free; It is among the free SEO tools offered by Moz. However, not all features of Link Explorer are available in the free version. The Pro version includes other SEO tools as well, and costs around to $99 to $599. A 30-day free trial is also available.
Monitor Backlinks can be used as both a link prospecting and link management tool.
Although, as the name suggests, its main focus is on backlinks, Monitor Backlinks has a couple of other features, such as keyword rank tracking and SERP position tracking.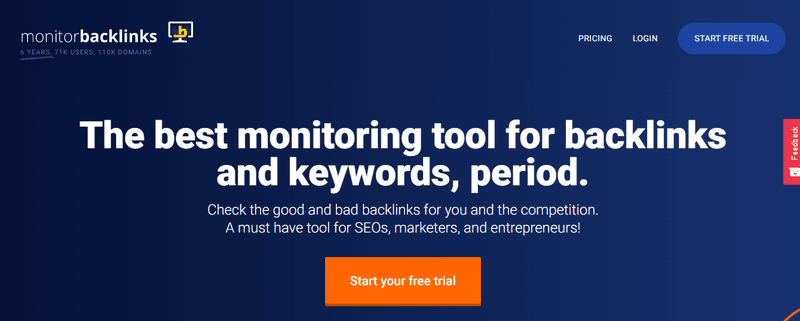 Features
Check the backlink profile of any website: Monitor Backlinks pulls link data from Moz and Majestic so you can see all the SEO metrics of your website and that of your competitors under one hood. As we've reiterated earlier, checking competitors' backlinks and using that data to reverse engineer their strategies is a powerful way to build links. However, the only downside is you can check the backlink profiles of652 up to 4 of your competitors
Disavow Tool: There's no way you can let those spammy links rest on your backlink profile. Monitor Backlinks lets you filter the bad ones easily, and generates a disavow list for submission to Google.
Reports: Shows information about the types of domains linking to your site, the follow to no-follow backlink ratio, top linked pages, most shared backlinks, and so on.
History: Shows you see the history of your backlink profile. Comes in handy when you are looking to find old links that were once contributing factors to your ranking.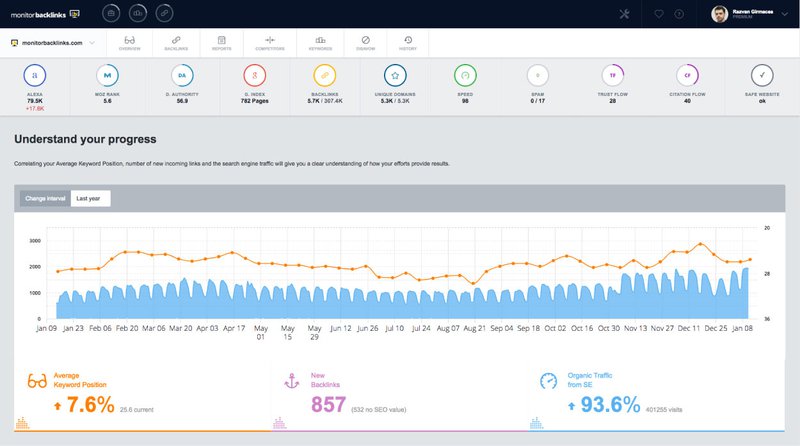 Pricing
The pricing ranges from $25 to $249 depending on the type of plan you choose. You also have the option to customize your plan by varying the number of monitored domains, links, keywords, daily rows, etc. A free trial is available.
SEMrush offers a complete SEO toolset similar to Ahrefs'. Its range of features includes social media management, keyword research, content marketing, Local SEO, and of course, link building. SEMrush can be used for practically all aspects of link building.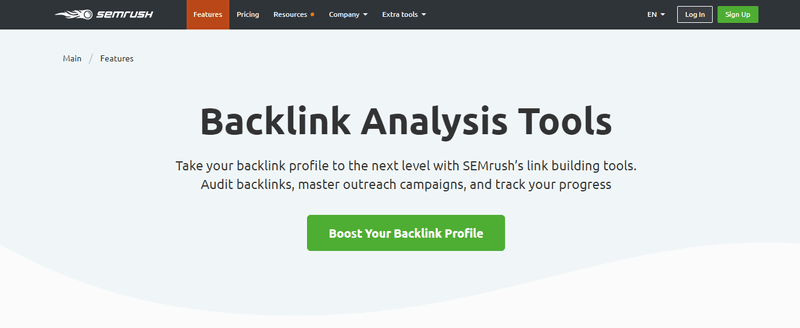 Features
Backlink Audit Tool: Gives an overall overview of your backlink profile. Checks how many inbound links you have, and which of them are toxic and have a negative impact on your website's rankings.
Backlink Analytics: This feature alerts you of your competitor's new and lost links so that you can stay updated on their link building strategy. Also provides a set of metrics, such as the authority score, so that you can narrow down the results and target prospects that meet your specific criteria.
Backlink Gap: This enables you to get a clear picture of the websites relevant to your niche with the most backlinks over the past 3 months, past year, or at any given time. However, the only downside is you can select up to 5 competitors to see what referring domains you have in common.
Bulk Backlink Analysis: Allows you to compare the backlink profiles of any 200 URLs. You can check all of the websites relevant to your business you've found on the web for their backlinks and referring domains.
Link Building Tool: This is the outreach tool. It gives you a quick overview of all your link building activities. You can also set up alerts for new prospects. By connecting your Gmail account to SEMrush, you can easily contact domain owners for link acquisition and track the status of your outreach pitch. Customizable email templates are also available.
Pricing
There are two plans that you can choose from: Pro and Guru. Pro costs $99.50 per month while the latter costs $199.95 per month. Both of these plans comprise the complete SEO toolset with some variations. In other words, you can't choose to use just the link building features. This can be a little inflexible for some users.
A 7-day free trial is available before you choose to commit to either plan.
10. Majestic
Majestic is an SEO tool wholly focused on link-building. However, its features center around link prospecting, link analysis, and link management.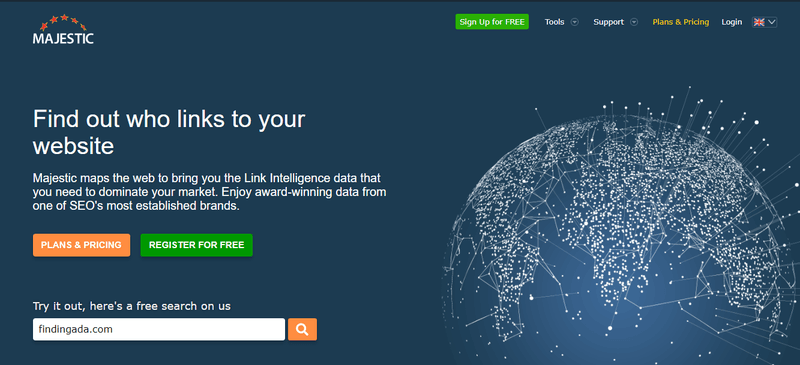 Features
Site Explorer: This feature gives you a pretty in-depth overview of the backlink profile of any given website, which helps you with link analysis and link management. It gives you important information about a site's SEO metrics, such as Trust Flow, Citation Flow, Topical Trust Flow, the number of external backlinks, referring domains, referring IP addresses, crawled URLs, indexed URLs, and so on. Link data per page can also be viewed.
Pages Report: This shows the pages on a website with the highest number of backlinks. It gives you a quick overview of which pages have the highest backlinks, referring domains, or overall link authority. Helpful for spying on competitors' best performing content and reverse engineering that for your own site.
Backlinks Report: This dives much deeper into a website's backlink profile. Some users may feel that the data on this report overlaps with the data on Site Explorer to some extent. Other offerings of this report include the option to filter results in 100+ ways to facilitate link analysis and data on the number of external links on each page that's linking to you. The latter is a rather unique feature when compared to other link building tools.
There are a lot of other nifty features available according to the plan you choose. In a nutshell, Majestic offers a complete breakdown of link profiles for link prospecting, link analysis, and link management. However, it has been criticized for having an antiquated UX design, which may hamper your user experience to an extent.
Pricing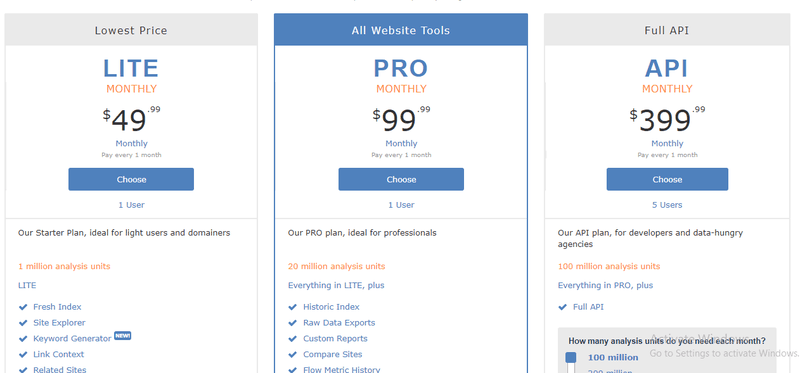 The pricing ranges from $49 to $399, as you can see above. Again, each plan comes with its own set of features.
Final Words
There's no doubt about the fact that using link building tools can make the process much easier so that you can shift your focus to the other essential aspects of your website. That said, choosing the right link building tool is also important. Here are a few factors that you can take into account when selecting one (or more!) for your website:
Budget: How much money can you can spend on link acquisition from your digital marketing budget?
Accuracy of the link data: According to Brian Dean, Founder of Backlinko, the indexed links data on SEMrush can be very different from that of Ahrefs' at times. Therefore, you would want to keep the accuracy of the link data in mind when choosing a link building tool for your website.
The number of links: Some link building tools, such as SEMrush and Moz, have a larger database of indexed links than the others. BacklinkSEO is working on expanding its number of indexed links. However, it has been praised for having a 'decent' backlink index compared to the others given the pricing.
Importance of team collaboration: If integration within teams is necessary, then you may want to opt for tools that offer team collaboration as a feature.
Again, these are some crude factors that you would want to take into account. There may be other specific factors related to the nature of your website/business that you should consider when choosing a link building tool.
What do you think about the tools we discussed above? Let us know! And as always, reach out to us if you have any further queries.
To monitor backlinks for guest posts, link building, and outreach campaigns, sign up for a free account.