Scoring a Reddit backlink can really have a massive impact on your SEO. Here's a simple guide that will explain how to get a do-follow backlink from Reddit.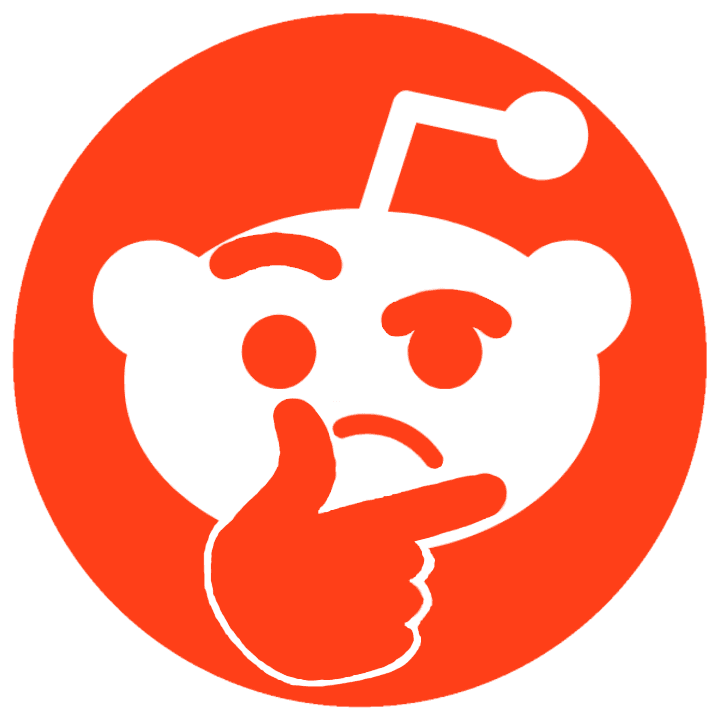 What is Reddit?
Despite being one of the most widely used websites on the Internet, many people are surprisingly unfamiliar with Reddit. Reddit started way back in 2005. And ever since then, it grew steadily. Reddit is somewhat of a combination of a forum, social network, and content aggregator. Registered users on Reddit submit their content on Reddit, including but not limited to links and text posts.
Here's a snapshot of Reddit's homepage: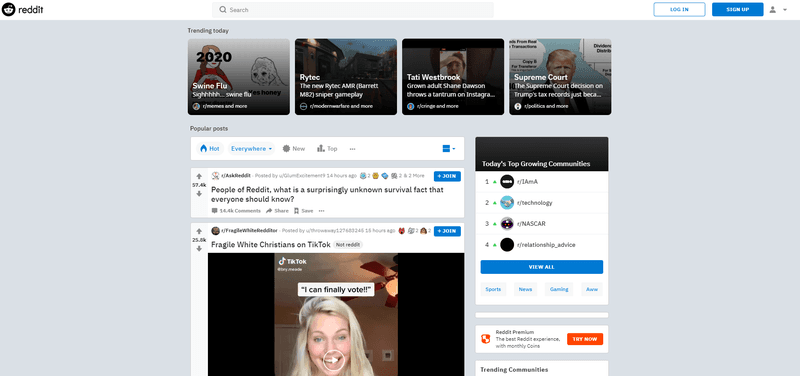 Before we dive in to know how to get a do-follow backlink from Reddit, let's understand how backlinks actually work on Reddit.
How Do Backlinks in Reddit Work?
Reddit is technically the front page of the Internet. With over 25 million people visiting this website daily, its popularity speaks for itself. That being said, Reddit is definitely one of the most ideal places on the Internet for link building. Site builders will naturally incline towards using Reddit to build backlinks back to their site.
However, the core problem here is that while trying to promote their websites on Reddit, a lot of those end up looking extremely spammy. This results in the moderators of that particular subreddit removing that link after you've added it.
The plight doesn't end there. For search engines like Google, this would look pretty bad when a link is being added to your site only to be immediately removed.
Note that you cannot trade long-term benefits for short-term advantage. While it feels nice to get a burst of traffic for a short amount of time, this really isn't adding any long-term value to your site that you linked. That's one issue you have to deal with.
Do-follow Link - The Backlink That Matters
Now, you are free to write or share anything on Reddit posts, and this includes links to your own content. Reddit initially marks each post as no-follow by default. Why so? Because this would disincentivize paid third parties and webmasters to spam their links on Reddit.
When it comes to SEO ranking of a site on Google, it's the do-follow link that makes a substantial difference. A do-follow link transfers 'link juice' to your site. And given Reddit's Domain Authority and Page rank, a do-follow link can give your site a great boost in terms of visibility and ranking.
However, this does not mean every backlink that ever occurs on Reddit remains a no-follow forever. With the use of a couple of complex algorithms, Reddit converts no-follow links into do-follow when you meet certain criteria.
While there is no 'right' formula, a good amount of information suggests that upvotes from active accounts can play a significant role.
So, before you know how to get a do-follow backlink from Reddit, the important question to ask is why on earth you should bother to get one in the first place.
Why Should You Care About Visibility On Reddit?
Reddit is practically the largest social media website with a page rank of 9. Let's look at some of its metrics:
Domain Authority: 97
Alexa Rank: 6
Citation Flow: 85
Trust flow: 75
Page Authority: 96
Here's an overview of Reddit from Alexa: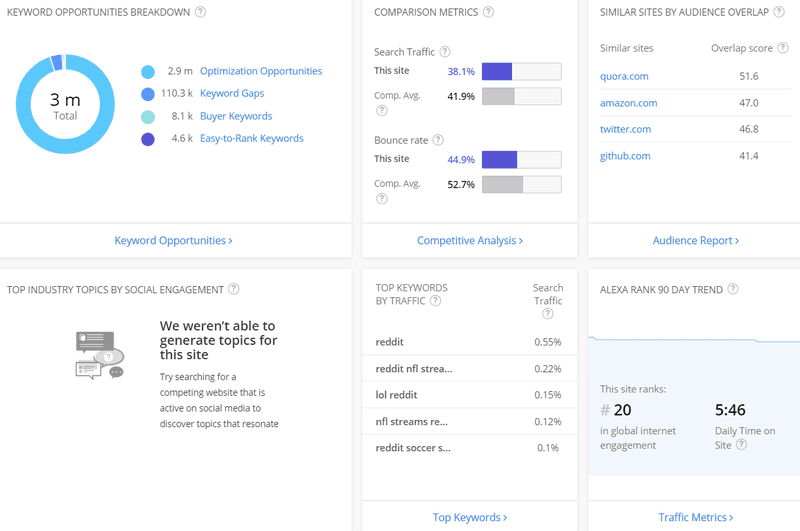 You don't have to go through all the information in this chart to one simple thing. And that is earning a backlink from Reddit will give your site a ton of traffic. Additionally, it will boost your page rank considerably.
Moreover, did you know 1.7 billion unique visitors explore Reddit every month? That's a huge number of eyes on your content.
So, no matter which angle you look at it from, there is one clear bottom line.
If your content interests people, there will definitely be a subreddit for it. And if there's a subreddit for it, that's your opportunity to build backlinks from there. Let's finally dive into how to get a do-follow backlink from Reddit.
How To Get A Do-follow Backlink From Reddit - Winning The Upvote Game
One thing to understand is that Redditors are mostly young and tech-savvy millennials. That is to say, they absolutely despise marketing and sales. So, if you don't clearly know what you're doing, you'll land up in an abyss of trouble. Not only will Redditors rip you apart, but moderators may also ban you from the page altogether.
This is just a fair warning and not an intimidation tactic. The thing with Reddit is if you know how to play your cards right, you'll end up getting a lot of love from Redditors. In order to make your place in Reddit, you'll definitely have to be an active user with a lot of upvotes.
Understand that this is a step by step process. So, you'll have to climb your way through with patience. Here's how to get a do-follow backlink from Reddit by acing the upvote game.
1. Finding A Community That Suits Your Niche
Now, just because you're a marketer does not mean you'll have to engage in a topic that's completely irrelevant to what you're doing. Redditors like to talk about everything. And popular topics generally have multiple subreddit comments and a lot of engagement.
Take this discussion on search engine optimization for example: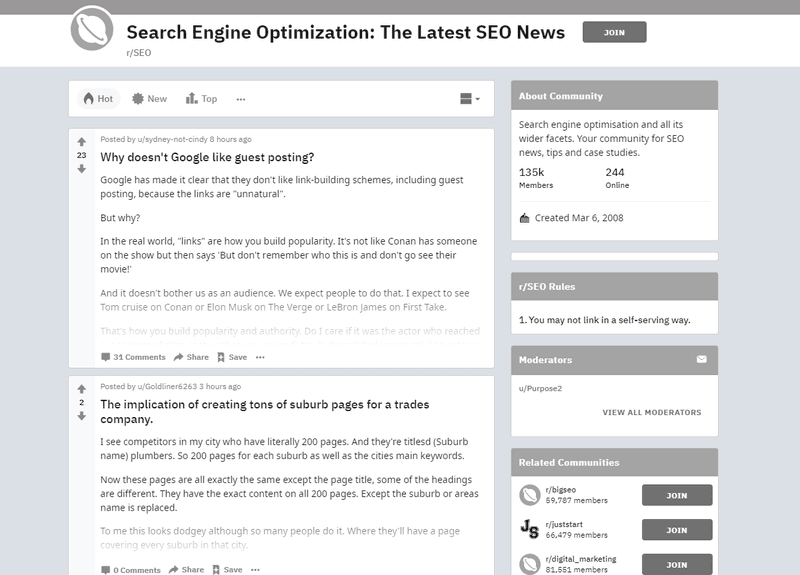 This way, you need to utilize Reddit's search option to explore which pool of audience is likely to be interested in your content. You can also search for broad terms and specific keyphrases.
We recommend using broad terms at first to ensure you've covered every corner of possibility. Afterward, make a list of all the subreddits that you can engage in.
You now know step 1 of how to get a do-follow backlink from Reddit. Once you're done selecting a target market, you need to move on to the next step.
2. Become an active participant
So, it is very important to note that your job isn't to start sharing links from day 1. Right after you sign up for a Reddit account, take your time to explore your target subreddit. Get the hang of it. Look at what posts they are engaging in.
Additionally, note that each subreddit has its own rules and regulations for posting. Make sure you read those carefully before you post or do anything. Go through the contents of your target subreddit. Take notes of what users are liking and upvoting and the reaction each of these contents.
Remember to engage consistently in these posts. Engage for at least two to four weeks before you post or share something that leads back to your website. This is step 2 of how to get a do-follow backlink from Reddit. Let's move on to the next stage.
3. Share Your Content
Now that you've been active long enough, it's now time you promote your content. Now, the first thing that might strike you is: "What on earth do I submit?". If you have taken proper notes in the previous section, you should know what content your audience will respond to.
Here's a list of formats that usually receive attention:
Q&A
Infographics
Videos
Interviews
Now, you need to take a close at what type of content your target subreddit is paying attention to. Post video content if you see video contents getting a lot of love on your subreddit. If you see Q&As are getting more exposure, consider hosting your own.
For maximum visibility, you'll need to take a few things into account - a great title for example. If you have a title that doesn't attract attention, it won't matter how great your content is. Additionally, make sure to use tags on Reddit. Tags in the headline also help people identify whether or not a post is worth it.
Now, when it comes to submitting posts, you can make two types of posts on Reddit.
Link post
Text post
When you submit something that's clickable and leads to a third-party site, that's a link post. Users can comment as well as vote on the link. However, you should opt for this option only when if you're absolutely sure of your reputation as a credible source of information.
Else, simply go with a text post. This means a post consisting only of text. The idea here is to occasionally drop a link back to your content within this text.
Make sure your post is genuine. If readers are hooked to your content, earning do-follow backlinks won't be much troublesome.
4. Have Patience And Repeat
Congratulations. You've reached the final step of how to get a do-follow backlink from Reddit. At this point, all you need to do is have some patience - and repeat the entire process!
Final Words
Reddit is definitely an outstanding platform for link building and boosting your visibility and SEO ranking. However, building a do-follow backlink will require substantial effort on your part. Hence, keep on persisting! If you have any more queries, let us know here.
To monitor backlinks for guest posts, link building, and outreach campaigns, sign up for a free account.