Are you confused about which backlink checker to invest in? Learn about the 7 best backlink checkers you can use in 2020, both free and paid. Read on to find out the features, compare prices and ratings, and choose the one that is the best for you.
Do you want to improve your website's rankings in Google SERPs?
Of course, you do. We all do. That's why we spend hours and hours on link-building campaigns and producing quality content that delivers some real value.
Backlinks are one of the most important factors that contribute to rankings, and so we try to keep our link profile as perfect as possible.
But in order to do this, you need a good backlink checker. No, scratch that. You need an amazing backlink checker.
However, there are many such tools out there, and it's not that easy to differentiate between the good and the bad ones. Well, that's where we come in.
Read on to find out the 7 best backlink checkers available in 2020.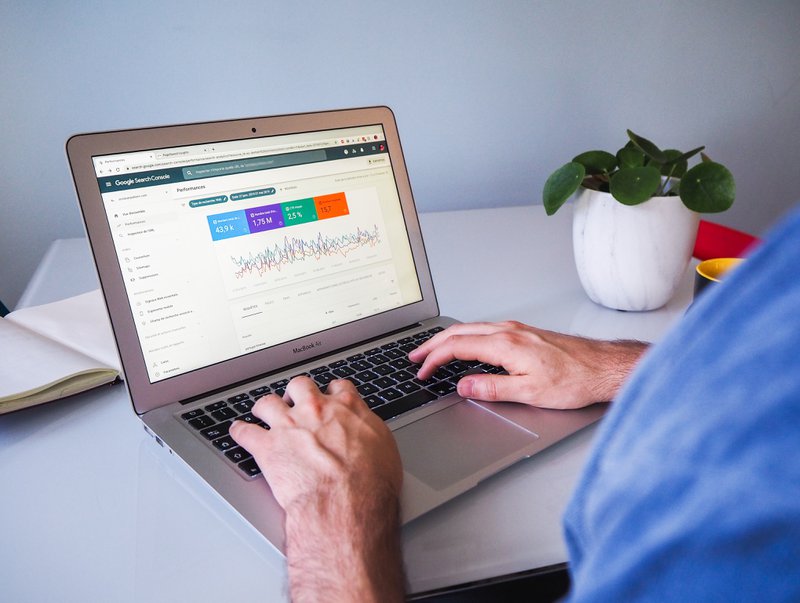 If you want to reach the top of Google search results, there is no better backlink checker available for you than BacklinkSEO. Backlinks play a crucial role when it comes to your website's SEO and rankings, and so you need a committed, trustworthy backlink checker that gives reliable results - one that is just like BacklinkSEO.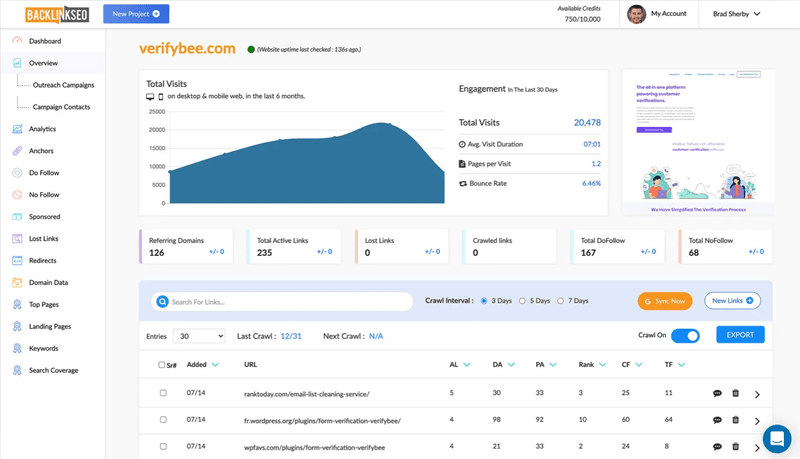 Features
With BacklinkSEO, you can see a detailed report of all your backlinks together. You can view how many of the links are:-
Active
Lost
Crawled
Do-follow
No-follow
You can also view the number of referring domains from which your site has backlinks.
Additionally, for all your backlinks, you can view metrics such as:-
Domain Authority
Page Authority
Moz Rank
Citation Flow
Trust Flow
You can also manually add any backlinks that you think might not have been crawled. This can happen when you just produced some guest posts or acquired links through any outreach campaigns. BacklinkSEO shows you the time that the website was last checked, so this can help you decide if you need to manually add links.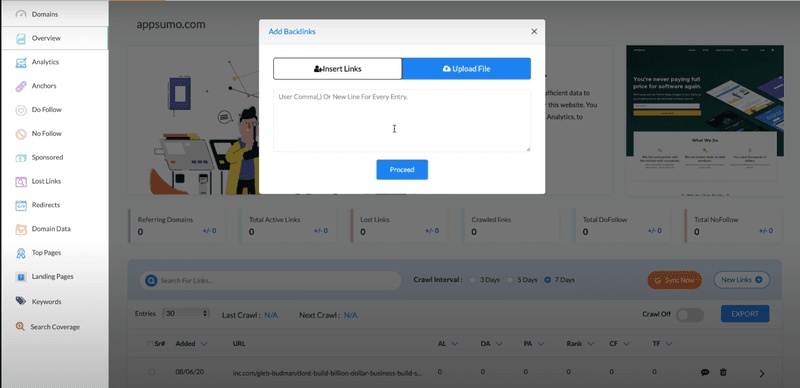 Moreover, you can check the anchor text of your backlinks too. Anchor text is important because external anchor text helps Google understand what that particular page is about, and for which keywords that page should rank.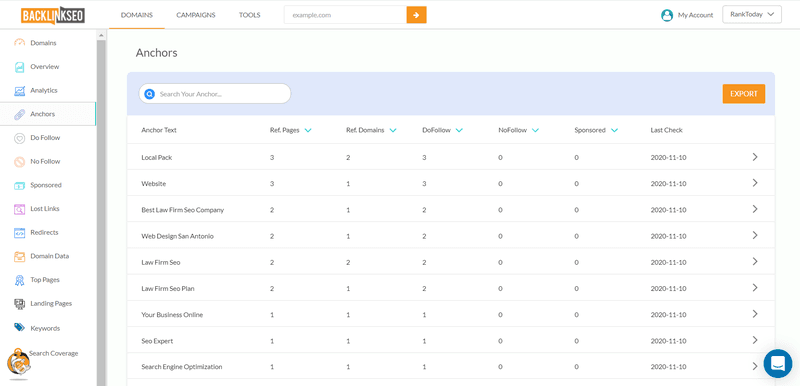 So, you can check the details of your backlinks by pulling up the anchor text report too.
Also, if you want to add a note to your backlinks, for example, "guest blog", you can do that too. Next time you need to see all your links from guest blogs, you can easily pull up all the relevant backlinks by searching the term.
You can also identify spammy links and gain competitor insights by researching their backlinks. For example, you can find out who's linking to their sites but not to yours. This backlink checker can also help you spot spammy links. You will also be able to observe trends in the number of visits to your website using graphical representations.

And this isn't all. BacklinkSEO will also send you automated alerts about changes in the do-follow status of your backlinks. They also have outreach campaigns. So, not only can you monitor your backlinks, but you can also get help in building new ones!
Capterra's rating of BacklinkSEO: 4.8/5
Pricing
BacklinkSEO is a freemium tool that gives you access to many handy free tools. You can use them by creating a free account. However, to get access to better facilities with broader limits, you can sign up for any of their four plans. Their prices start from $10 per month and go up to $99 a month.
Overall, BacklinkSEO is the ultimate backlink checker that can help you thoroughly monitor your backlink profile, whether you want the paid service or just the free tools. And they have exciting new tools on the way!
A favorite of many professionals, Ahrefs promises that "you don't have to be an SEO pro to rank higher and get more traffic" on its website.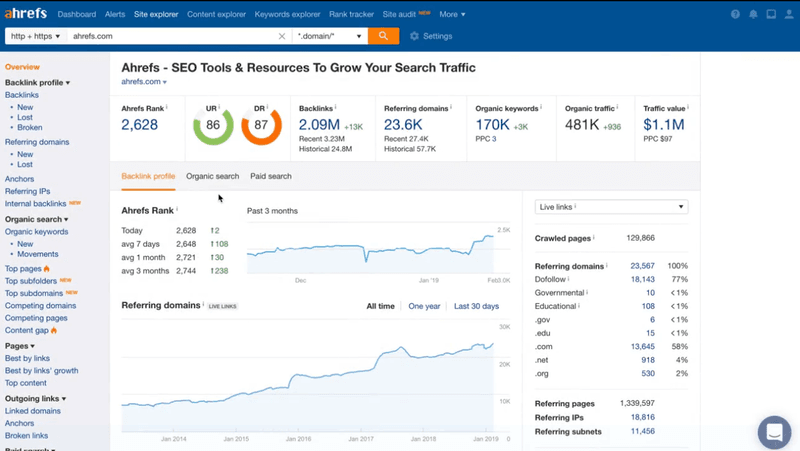 Features
Ahrefs promises to help you gain more backlinks by showing you how your competitors are performing in organic and paid search. So, you will be able to reverse engineer their strategies, gain quality backlinks, and come out on top.
With this backlink checker, you can see the number of referring domains and backlinks to your website, as well as the domain rating (DR), URL rating (UR), and Ahrefs rank for each one of the backlinks. Metrics like DR and UR are helpful because they tell you about the strength or popularity of a certain backlink.
Moreover, you can observe any trends in the growth of backlinks to your site using the visual Ahrefs will provide.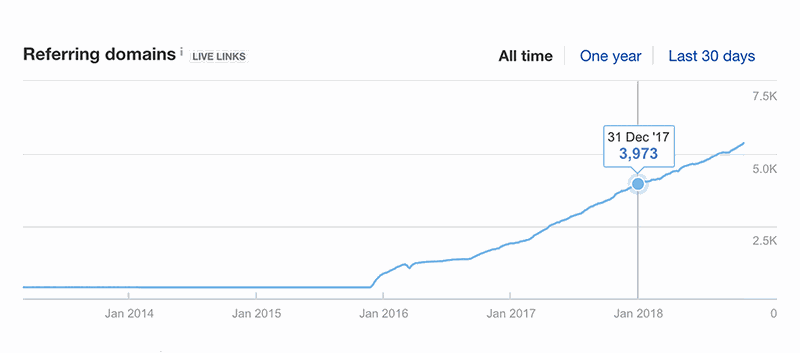 Advanced filters can help you sort your backlinks as per the:-
Language
Link type (do-follow / no-follow)
Domain Rating
URL Rating
Referring domains
Platform
You can also analyze anchor text. Also, if you want to see what kind of broken links are on your site, Ahrefs can help there as well. You can view the referring page, UR, the anchor, and the link all together in one report.
Sam Oh, the Director of Product Education at Ahrefs, has also provided a useful insight into which type of businesses will find Ahrefs the best suited for their needs. He says that the Site Explorer, which includes the backlink checker by Ahrefs, is the most appropriate for websites with smaller backlinks. This is because analyzing the extensive amount of data that Site Explorer will come up with, which popular websites with many backlinks usually have, may be confusing.
Capterra's rating for Ahrefs: 4.8/5
G2's rating: 4.6/5
Pricing
Ahrefs's prices start at $99 per month for their Lite Plan. The Standard Plan, which is Ahrefs's most popular plan, costs $179 a month.
They do not offer a free trial. However, you can buy a 7-day trial to their Lite and Standard plans for $7 that will give you full access to all the features included in these two plans.
Ahrefs is a trusted tool for many in the industry, and not for no good reason. You never have to worry about the quality of Ahrefs's data.
SEMrush is an incredible business that offers a lot of powerful tools, from a keyword research tool to a backlink checker.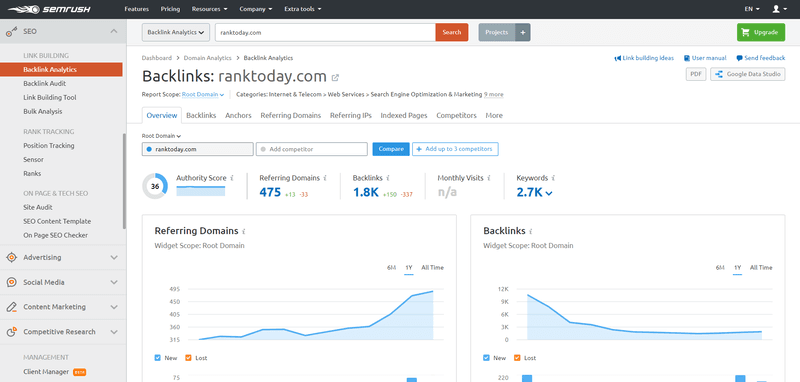 Features
Not only does SEMrush show you the number of referring domains and backlinks your site has, but it also attaches a visual to help you spot trends. You may also choose to see the visual categorized into new and lost links to help you see if you're losing more links than you're gaining.
SEMrush actually does a great job of displaying data using visuals. If you scroll down on the overview page, you will come across something like this.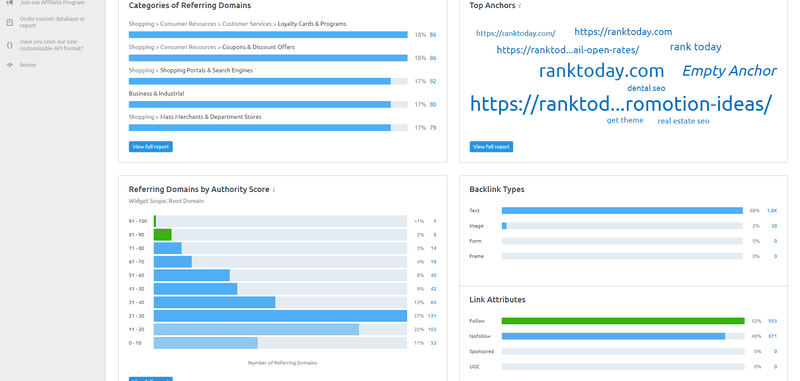 It shows you your site's:-
Common anchor texts
Backlinks by type (text/ image/ form/ frame)
Link characteristics (do-follow/ no-follow/ sponsored/ UGC)
Referring domains arranged by Authority Score
Top pages
Top countries (important to see how popular you are in the countries most of your clientele resides in)
TLD Distribution
..and more.
You can, of course, pull up a detailed report on your backlinks too.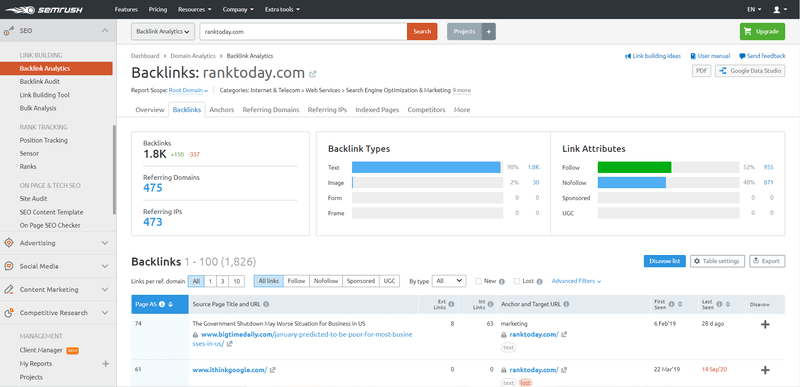 Using this report, you can the number of external links, the number of internal links, anchor text, authority score of the page, URL, the date the link was first seen, and the date the link was last seen. You can also use the advanced filters to narrow down the results as per your needs.
Additionally, you can identify toxic backlinks to disavow and create a disavow list. You can also do competitor research and see what keywords they are ranking for, and which highly authoritative sites are linking to them. Doing link analysis for competitor sites is a good way to come up with a list of prospects for blogger outreach, which is an effective way to engage in link-building.
Capterra's rating for SEMrush: 4.6/5
G2's rating: 4.5/5
Pricing
Want some good news? SEMrush offers some of its tools for free. However, there is a daily limit of 10 free requests.
If you want to overcome such limits, you can subscribe to one of their three plans. Their prices start at $99.95 per month. They also have an Enterprise plan where you can customize the tools you need access to as per your organization's needs.
Thought we were done with the good news?
Absolutely not. You can get a 7-day free trial too! If you bill annually, you can also save 16 percent!
SEMrush provides a reliable service that understands the importance of adapting to your business's needs.
Ubersuggest promises to help you "win the game of SEO" from the get-go. It is a freemium tool where you can access a limited amount of data for free.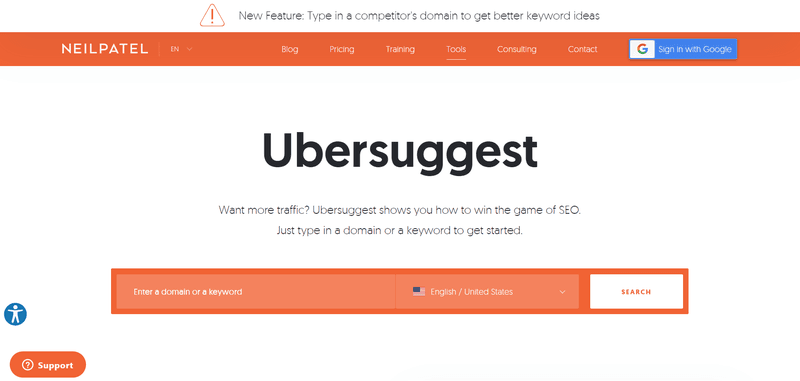 Features
On its backlinks report, Ubersuggest will show you the:-
Total number of backlinks
Number of no-follow backlinks
Number of referring domains
Domain score
Number of .gov and .edu sites linking to you (such sites are highly authoritative can significantly improve your site's rankings)
Organic monthly traffic to your website
Scrolling down will show you charts delineating your site's backlinks over time. Ubersuggest will also provide a bar chart showing your new and lost backlinks to help you spot sudden losses in backlinks or to understand if you're gaining more backlinks than you are losing.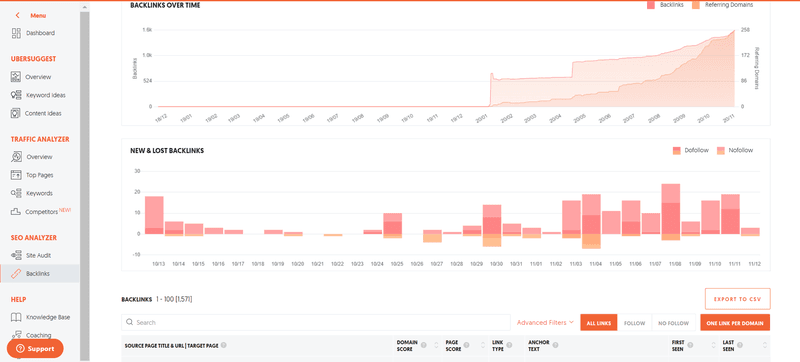 Aside from all these, you will, of course, be able to view the page score (which is analogous to the metric "Page Authority" that shows the strength of the URL), type of link (text or image), anchor text, the date that the link was first detected, and the date that the link was last detected.
Moreover, if you feel a bit overwhelmed with the large number of backlinks shown, you can choose to limit the backlinks report to show one backlink per domain.
Ubersuggest can help you generate content ideas, keyword suggestions, and view your competitors' top pages too.
TrustRadius's rating for Ubersuggest: 9.5/10
Producthunt's rating: 4.9/5
Pricing
Ubersuggest does offer many useful tools for free. However, to be able to access a sufficiently large amount of data, you can upgrade your account to a paid version. Their prices start from $12 a month for their Individual plan and go up to $40 a month for their Enterprise/Agency plan.
Additionally, they have a unique offer on the table- lifetime access to each of their three plans. This comes with a 30-day money-back guarantee.
In addition, they offer a free 7-day trial, so you can be sure before making a commitment.
You can trust Ubersuggest to understand your and your organization's needs and work hard to achieve your goals.
Link Explorer by Moz is yet another magnificent freemium backlink checker that is sure to help you monitor your site's backlink profile. This tool was previously known as Open Site Explorer. Moz claims that Link Explorer comes with a "new set of link analysis and competitive research tools, powered by a brand new and robust live link index." So, this is even better than the Open Site Explorer everyone knew and loved!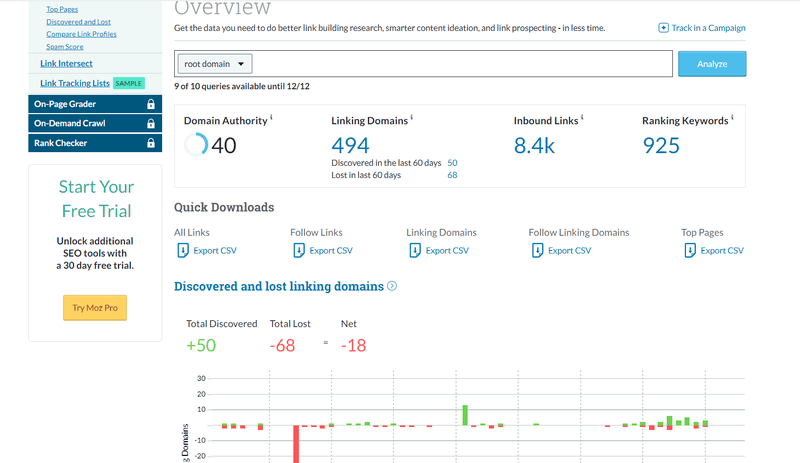 Features
Besides knowing the number of inbound links, you can see the URL, anchor text, domain authority (DA), page authority (PA), the date first seen, the date lost (if the link has been lost), spam score, and link target for each of your backlinks.
You can also display your site's linking domains that were recently found and lost, top anchor text, ranking keywords, and more using this backlink checker. You may also download specific data about your backlink profile as a CSV file for analysis.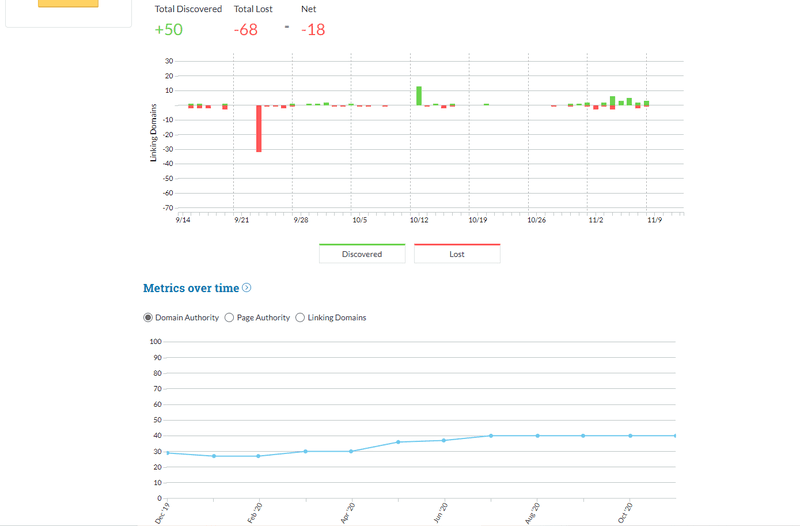 Moz also shows trends in data using graphics. You can see your discovered and lost links over time and the net change in the number of links.
You can also see the growth or decline in your website's domain authority, page authority, and the number of linking domains. There is also a chart showing you the proportion of do-follow and no-follow external links and the same for internal links.
Apart from all this, Moz also shows a handy chart showing all your linking domains sorted by domain authority. A quick glance at this can tell you how many backlinks you have gotten from highly authoritative domains that have helped your page's rankings improve.
Lastly, you can find out who is linking to your competitors, but not to you. Find such link-building opportunities using Link Intersect.
TrustRadius's rating for Moz Pro: 8.3/10
G2's rating: 4.4/5
Pricing
Moz offers access to many free SEO tools, including Link Explorer.
For their paid service, Moz offers 4 plans, for which the prices start from $99 per month. The Medium plan, which is their most popular plan, costs $149 per month. However, you can get a 20 percent discount by billing annually. They also have an Enterprise plan, if you are looking to adopt the tools according to your needs.
Here is the best part. You can sign up for a 30-day trial to the Medium plan (their most popular plan) for free!
Overall, Link Explorer by Moz is a trustworthy backlink checker that will help you gain insights about your backlink profile.
SEO Spyglass is an amazing backlink checker that will help you thoroughly conduct backlink analysis- one of the most crucial tasks of SEO.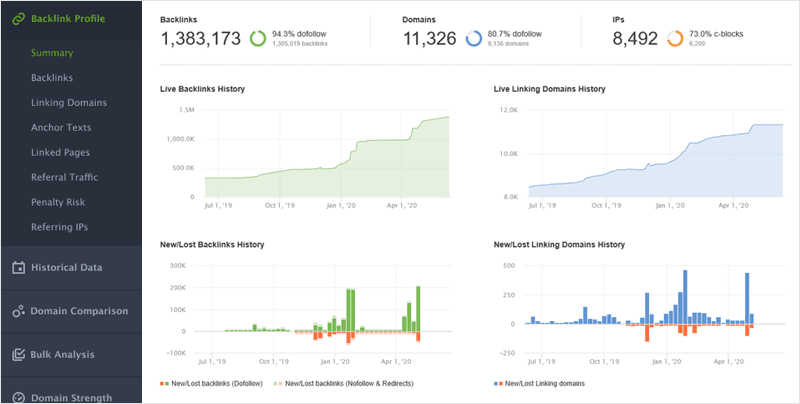 Features
With SEO Spyglass, you can view and filter your backlinks by:-
Anchor text
Anchor URL
Do-follow/ no-follow status
Domain authority
Page authority
Penalty risk. This metric tells us how spammy the link is.
And some more.
SEO Spyglass promises to create clear and aesthetically pleasing backlink reports. You can also customize the reports as per your needs. SEO Spyglass will also identify the backlinks that send a lot of traffic your way.
On their website, SEO Spyglass claims that it "unearths all backlinks pointing to any website", so whether you research your competitor's backlinks or that of your own, you can rely on SEO Spyglass to give you comprehensive results.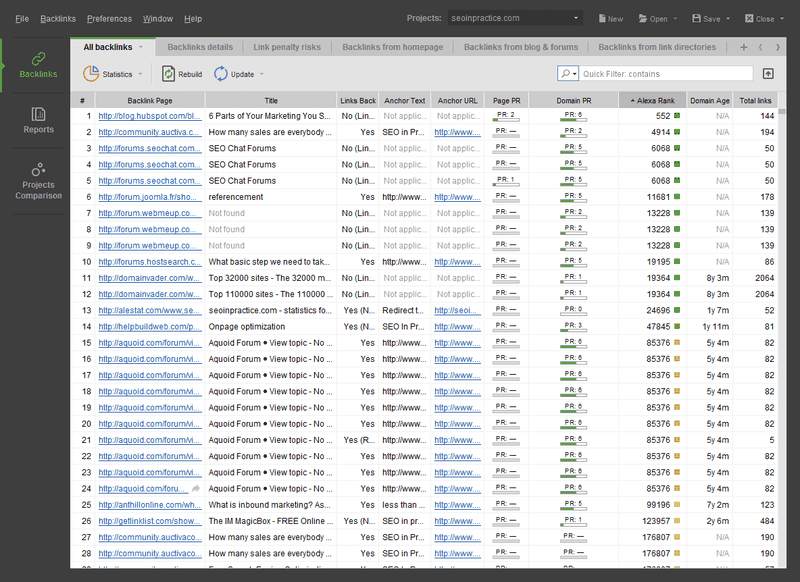 Not only do they use their in-house backlink database, but they also extract data from external sources such as Google and Bing to ensure that you have access to as large backlink data as possible.
In addition, SEO Spyglass will also show you the domain age for your backlinks. You can also view the Alexa rank assigned to each backlink.
If you want to find more link-building opportunities by checking where your competitors get their links from, SEO Spyglass also has a feature called Domain Comparision.
What's more, is that you can see the exact number of visits generated by each backlink. Talk about being thorough!
G2's rating for SEO PowerSuite: 4.4/5
Capterra's rating for SEO PowerSuite: 4/5
Pricing
SEO Spyglass offers many tools for free, including backlink analysis for up to 1,100 backlinks. They have two paid plans that are priced at $149 a year and $349 a year.
Overall, SEO Spyglass puts a lot of effort into being an incredibly comprehensive backlink checker. Your backlink analysis just became a lot easier.
OpenLinkProfiler is a free backlink checker that is perfect if you want to monitor your backlinks without spending cash. It is backed by SEOprofiler, which is a paid SEO tool.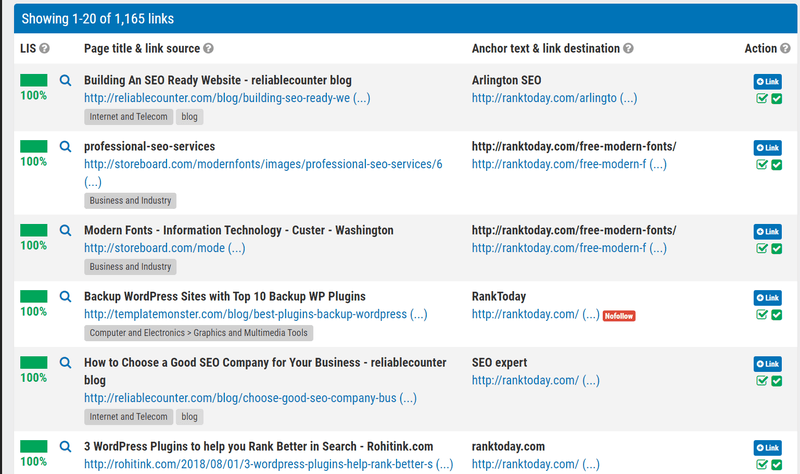 Features
For each backlink, you can check the:-
Page title
Source of the link
Anchor text
The date that the link was first found on
The date that the link was last seen
Link Influence Score, which is attributed to a link based on the number of backlinks to that website and the quality of the website. It ranges from a scale of 0 percent to 100 percent
Moreover, you can add a variety of useful filters to narrow down the results as per your needs.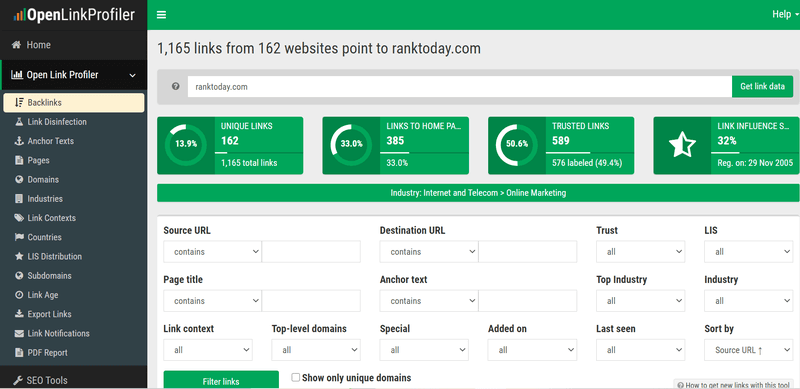 OpenLinkProfiler also shows you the most common anchor texts and the percentage of backlinks that use a certain anchor text.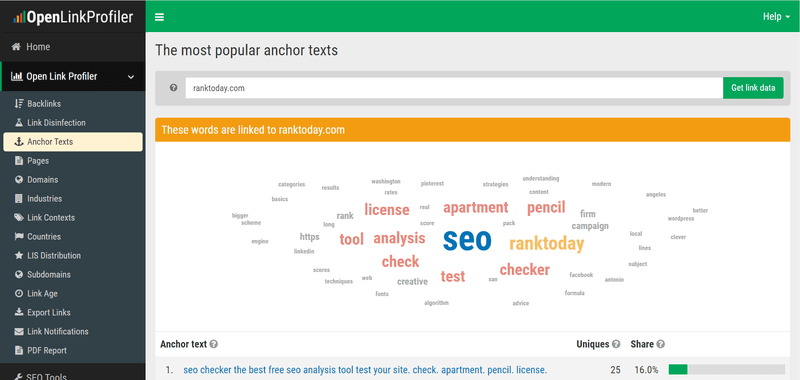 You can do a lot more using OpenLinkProfiler, including exporting your backlinks and generating a PDF report.
Pricing
OpenLinkProfiler is a completely free tool! It provided an impressive amount of data for a backlink checker that costs nothing.
Conclusion
Monitoring your backlink profile is an extremely important task if you want your site to rank high and get loads of organic search traffic. Since it is so important, you need a trusted organization to help you, and so we told you about the 7 best backlink checkers we know about.
Now, it's time to hear from you. Do you think we missed out on any amazing backlink checkers?
Or, have you used any of these and noticed a key feature that we failed to mention?
Share your opinions. We love to hear from you.