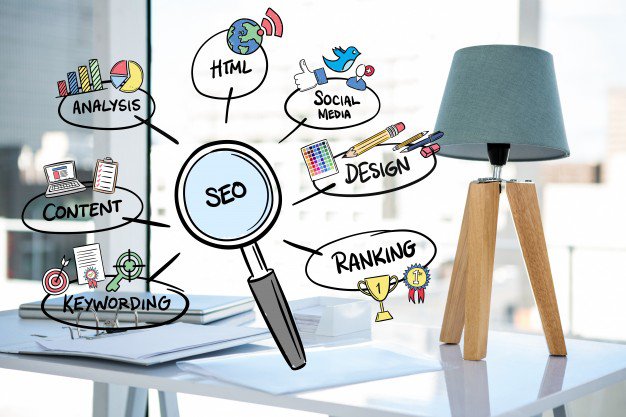 Much has changed in the world of SEO in the last few years, but one thing has remained constant - backlinks.
However, the number of backlinks to your site isn't a crucial ranking factor anymore. Instead, the quality of the backlinks your site receives plays a key role in improving search rankings. This is why you need a great backlink checker to ensure that you're monitoring the quality and quantity of backlinks that you're getting.
Last year, Google's Penguin algorithm upgrade devalued low-quality links and eliminated all private blog networks. This makes it more important for you to keep your backlink profile as flawless as possible.
But finding the right backlink checker isn't easy.
There are hundreds of tools available in the market, and distinguishing between the good and bad can be tricky.
If you're struggling with choosing the perfect backlink checker for your site, you're just in the right place. In this article, we're sharing 9 of the leading online backlink checker tools that you can use to keep tabs on the quality and quantity of backlinks received by your website.
But before starting the hunt for the perfect backlink checker, you need to know why it is important to do so.
Why Do You Need Backlink Checker Tools?
In simple terms, a backlink is a link created when a page on one website links to another.
If someone links to a page on your site, it means you have a backlink from that website. On the other hand, if you link to another website from a page on your site, then they will have a backlink from your site.
Backlinks are considered one of the essential factors in achieving a high page ranking and higher keyword ranking. However, as time passed, Google devalued the importance of backlinks and incorporated new signals to rank a page.
Backlinks are often classified into two types: dofollow links and nofollow links.
When we start creating backlinks, we normally focus on dofollow links. We monitor the number of backlinks we have created for our site using backlink checker tools. A large number of backlinks greatly aids in enhancing our site's domain authority and its Moz rank.
The following are some free online backlink checker tools that you can use in 2021 to see all your website's inbound backlinks.
Some provide elaborate statistics, while others merely provide the number of backlinks, but none of them demand registration or sign up, making the process quick and simple!
You can choose the one that fits your requirements.
9 Best Backlink Checkers To Stay On Top Of Your Backlink Profile
1. BacklinkSEO
BacklinkSEO is a freemium tool that gives you access to a range of useful free features. It is one of those "must-have tools" if you're looking to rank at the top of Google search results.
When it comes to boosting search rankings, you need a dedicated and trustworthy backlink checker that provides dependable results, making BacklinkSEO just the right choice!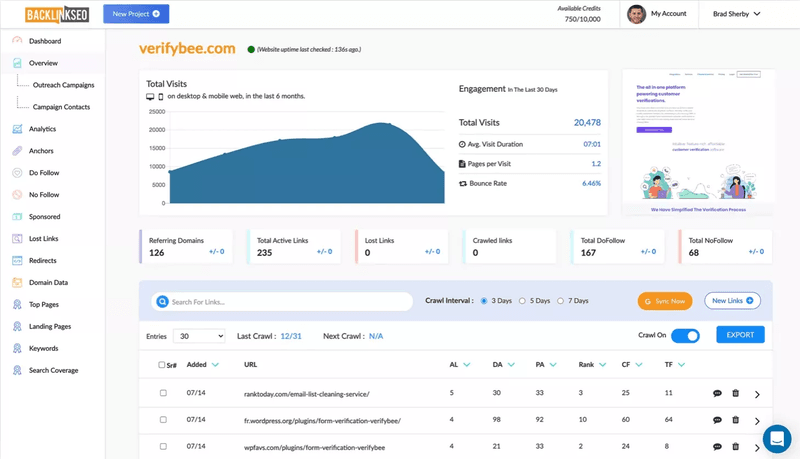 BacklinkSEO helps you automate your backlinks and monitor your backlink profile.
By creating your first campaign, you can monitor your website's backlinks, track keywords while also keeping an eye on the competitors' sites. Here is an example of how you can find the necessary information.

BacklinkSEO allows you to see several backlinks. Such as:
active dofollow
nofollow links
sponsored links
lost/broken links
redirected links
anchored links
crawled links
You can, however, add custom backlinks manually that you believe were not crawled. This can happen if you recently published some guest pieces or received links through any outreach campaigns. BacklinkSEO displays the last time the website was checked, which will let you decide whether you need to add backlinks manually.
Besides, if you'd like to add a comment to your backlinks, such as "new blog," you can do so. The next time you need to see all of your links from new blog posts, simply search the word to bring up all relevant backlinks.
You can also detect spam links and collect competitor information after deeper research.
You can, for instance, see who is linking to your competitors' websites but not to yours. You can also use visualizations to observe trends in the number of visitors to your website.
Another amazing fact about this backlink checker is that it will automatically send you alerts whenever there's a change in your backlink profile.
You can also create outreach campaigns using BacklinkSEO. Not only can you check your backlinks, but you can also get assistance in creating new ones!
To get started with BacklinkSEO, simply signup for a free account. However, to access all the updated features, you'll have to upgrade your account. The fees range from $10 to $99 per month.
Altogether, BacklinkSEO is the ideal backlink checker, allowing you to thoroughly analyze your backlink profile regardless of whether you choose the subscription service or just the free resources. And they've been working on some interesting new tools too!
2. SEMrush
SEMrush, with its new features, is quickly becoming a powerful SEO tool.
It is not limited to a backlink checker tool. It is a full package of SEO tools that you might possibly require.
SEMrush provides a large database that is updated daily, allowing you to examine the condition of your website's backlinks precisely.
Here's a sneak peek!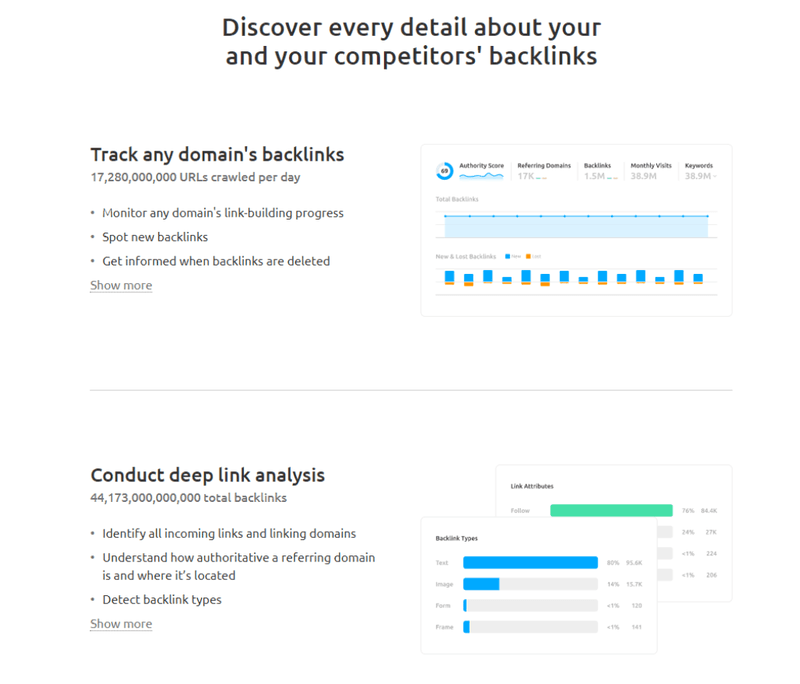 You can also learn more about the country from where you are generating the most links.
You can use SEMrush to:
check backlinks for your website or a competitor's website just like BacklinkSEO
compare backlinks of your site to those of other domains
It's also a freemium tool like BacklinkSEO. Their prices range from $199 to $449 per month, but you can try the free service for 30 days.
3. LinkMiner
If you're looking for opportunities through backlink analysis, you'll enjoy LinkMiner. It doesn't have a free service; however, it offers a 10-day free trial period.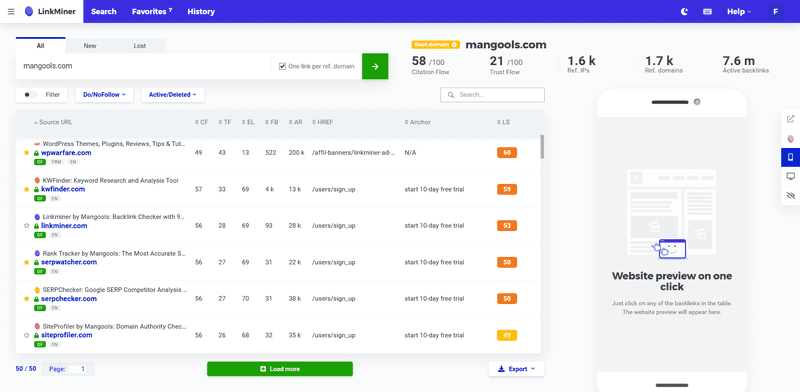 Here are a few simple things you can do using LinkMiner:
Check backlinks for any relevant information.
Dashboard-based embedded webpage preview.
View the backlinks by category.
Check the link's strength.
Choose backlink(s) as favorite.
The charges range from $49 to 129$ per month, but you can save a lot by billing annually. LinkMiner can be a good choice as it uses Citation Flow, Trust Flow, and several other well-established metrics. Their Majestic historical and fresh index makes them one of the top backlink checkers in the market.
4. Ahrefs
Ahrefs free backlink checker assists you in getting more backlinks by revealing how your competitors perform in organic and paid searches. This will help you to counteract their techniques and get high-quality backlinks, leading to significant improvements.

You can use the backlink checker of Ahrefs to check the number of referring domains and backlinks to your website, as well as the domain rating (DR), URL rating (UR), and Ahrefs rating for each of them.
Metrics such as DR and UR are useful since they provide information about the strength and popularity of a specific backlink.
Furthermore, utilizing the graphics provided by Ahrefs, you can analyze any trends in the growth of backlinks to your site.
You can use Ahrefs backlink checker to:
Get the number of referring domains
Number of backlinks generated
Domain Rating (DR) & URL Rating (UR)
Ahrefs Ranking (AR)
Using this free tool, you can see the top 100 backlinks to any domain or webpage. You can also create an account and receive a thorough backlink analysis and an anchor text analysis of your website.
If you face problems with bad SEO ranking after the Penguin update, this will be a life-saving tool for your site. You can get all the link data and a breakdown of anchor text referring to your site.
5. BuzzSumo
BuzzSumo is one of the top content marketing tools. They have both free and paid versions. The pro version now includes the ability to check links to your site or any particular page. You can also export Existing links into.csv or Excel format.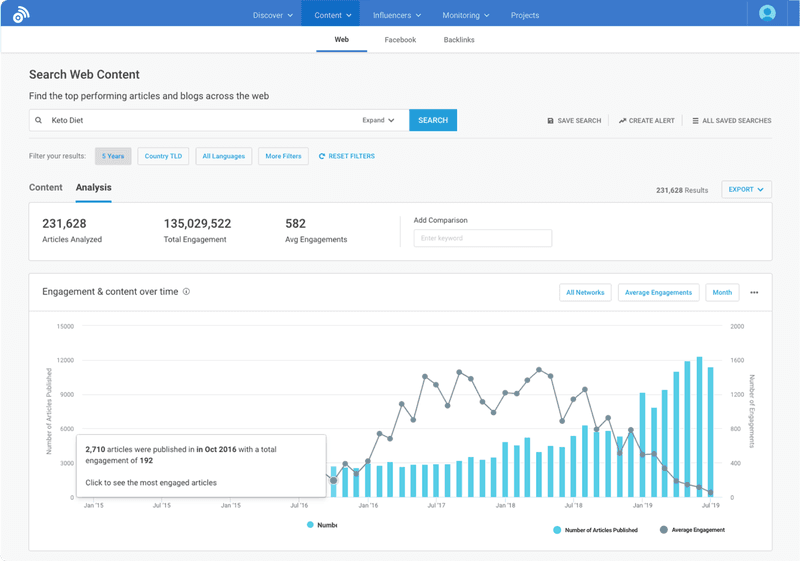 With BuzzSumo sends you alerts about almost every little change. They will send alerts about:
Backlinks
Brands
Competitors
Domains
Keywords
BuzzSumo is quite popular among marketers, with its pricing plan ranging from $99 to $299 per month. To test the app and know more about it, you can use the free version for 30 days.
6. Moz Link Explorer
Moz Link Explorer, previously known as Open Site Explorer, is one of the most recognizable and widely used among the mentioned backlink checkers in this article.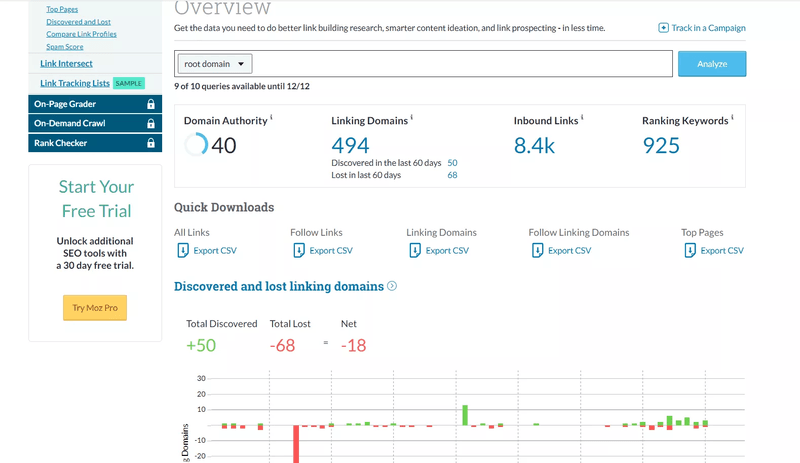 Using this tool, you can identify how many inbound links are created, or you have generated from other websites. You can also check the following things using this tool:
URL
Anchor Texts
Domain Authority
Page Authority
Spam Score
First and Last View Date
Broken Links
You can also download specific information about your backlinks as a CSV file for further analysis.
Moz also uses visualizations to demonstrate data trends. You can see the number of links that have been discovered and lost over time, as well as the net change in the number of links.
You may also monitor whether your website's domain authority, page authority, and the number of linking domains are increasing or decreasing. You can also use a chart that shows the proportion of do-follow and no-follow external links and the proportion of do-follow and no-follow backlinks.
Aside from that, Moz displays a useful chart that lists all of your connecting domains in order by domain authority. A quick glimpse at this chart can inform you how many backlinks you've received from highly authoritative domains that have aided your page's ranks.
Moz's link explorer is a free tool, and they offer many other free tools and services. For the premium account, it starts charging from $99 per month. And you can also avail the trial period for 30 days for FREE!
7. SEO SpyGlass
SEO SpyGlass delivers a fully-featured dashboard for backlink monitoring and control.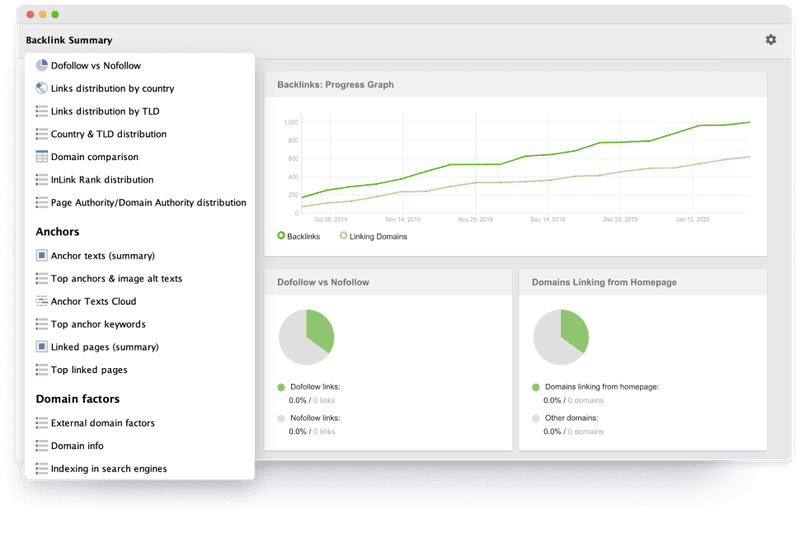 SpyGlass, unlike many other free backlink checkers, allows you to sort and filter the identified backlink data using any of the following parameters:
Pages that are linked
Anchor text and URL
Dofollow and nofollow attributes
Domain and page authority
Spamminess of the link source
The number of free backlinks you can check is restricted to 1,100 per domain, but the number of domains you can check is infinite. This allows you to research both your own and competitor websites.
If you need more information, you can connect SEO SpyGlass to Google Search Console and Google Analytics. This will let you gather backlink data from Google tools, import it into SEO SpyGlass, and process the data using the SEO SpyGlass dashboard.
The best part about this? You can do all these for free!
8. Google Search Console
Google Search Console is a completely free backlink checker offered by Google itself, which comes with a large data limitation and restricted backlink analyzing options.
It is absolutely free. However, you may only use it to monitor the websites you own. Once your ownership gets verified, you will have access to a number of site quality dashboards; one is a list of backlinks pulled directly from Google's index.
You can only see the top 1,000 results no matter how long the list is. There are no extra metrics or analytic tools available on the site. However, you are free to export the data and examine it with other tools.
Google Search Console can help you to:
Gather raw backlink data.
Find backlink information of your website, but you can't compare/check your competitors.
Export data to other tools.
One peculiarity of Search Console is that its backlink lists are typically shorter than those of other backlink checkers. That's because Search Console filters out low-quality backlinks and only considers the ones that count. This sort of filtering means you can't use the tool to detect and delete spammy backlinks from your profile.
On the plus side, it also means you'll get a unique set of backlinks that you can't get from the other tools.
9. Seobility
Seobility is another widely used free backlink checker.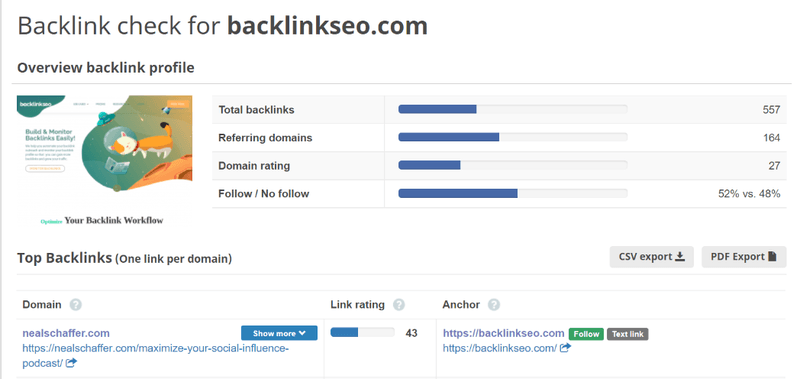 It allows you three backlink checks each day and restricts the number of backlinks you can view per search to 400. The list of backlinks is arranged from highest to lowest link rating, so even though the number of links you may check is restricted, you will see the best ones.
The links are accompanied by a number of additional parameters, such as:
Anchor Texts
Dofollow/nofollow attributes
Linked Pages
Link Rating
Other Link Types
You can also get a quick overview of the general backlink profile at the top of the page of Seobility. The overview contains the total backlink count, domain rating, and the number of referring domains.
Final Words
Maintaining and continuously monitoring your backlink profile is critical if you want your site to rank high and receive a lot of organic search traffic. Since it is so vital, you need a trustable and dependable tool to assist you. We tried and tested the above-mentioned tools, and we recommend you try the free versions as well.
Have you decided which one to choose? Or are you still confused?
Reach us anytime, and we will be more than happy to help you out. Create a free account on BacklinkSEO today and stay on top of your backlink profile in real-time!