If you want high-quality backlinks, but do not have the time to invest in link building, you have come to the right place. We are here to tell you about the 11 best link building services available in 2022 that will be worth your time and money. Let's get started.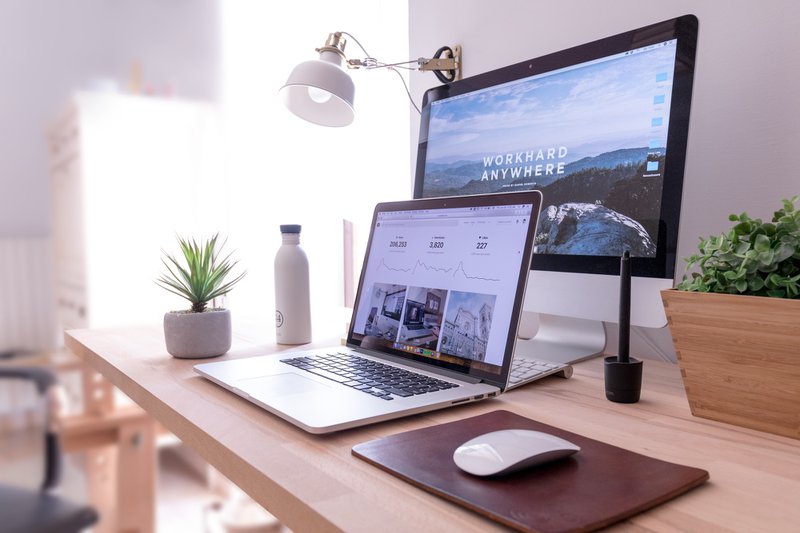 BibiBuzz is a business that will take the time to understand you better.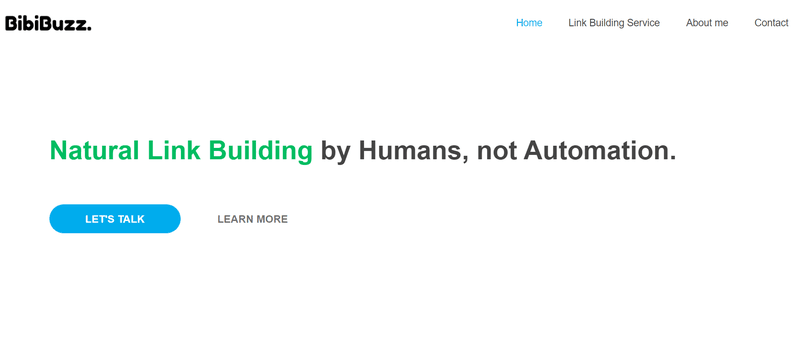 As outlined on their website, the first thing they will do is learn about your customer profile, how many new customers you want, what techniques you have tried out before, and more. Then, they will research your competitors to find out what worked for them.
BibiBuzz will also go through your content and pitch ideas if necessary. How amazing is that?
Moreover, you can reach out to businesses and influencers through them and reap the benefits of their wide network of bloggers. You can rest assured knowing each of the emails they send will be personalized with respect to the entity they are reaching out to. So, your chances of getting a credible link are higher than it would be if the businesses were just mass-emailed.
Also, they will carry out broken link building and much more. For all this, they charge prices starting at $4000 for 10 links.
To top it all off, they are very quick in replying, so you don't have to wait forever to get a query answered. BibiBuzz is a link building service that will respect your needs and give their 100% to the job.
BacklinkSEO is your one-stop-solution for everything related to your backlink profile. Whether you want to build links through automated outreach campaigns or monitor your backlinks in order to improve your backlink profile, BacklinkSEO has got your back!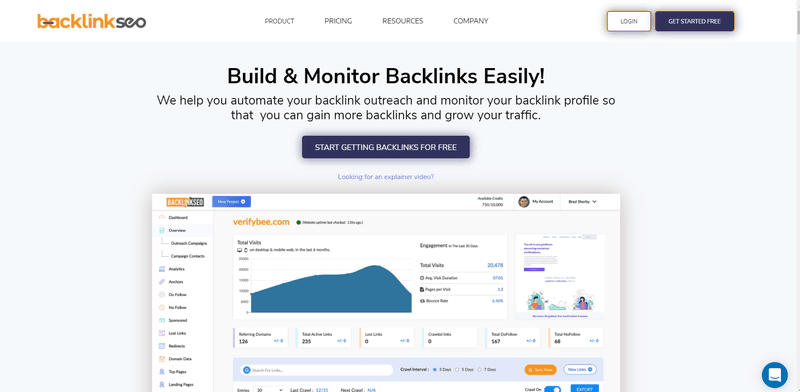 BacklinkSEO offers automated outreach as its link building service. From spotting prospects to building outreach campaigns and emailing those bloggers, BacklinkSEO will help you through the process. They offer different types of outreach campaigns, as you can see in the image below.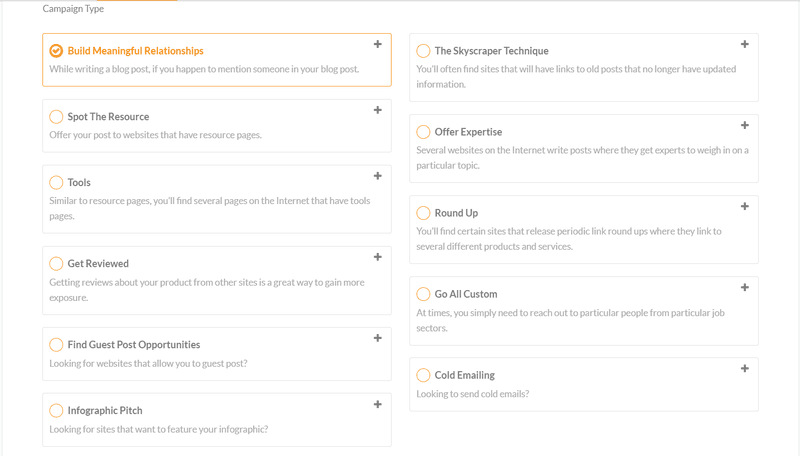 If you happen to mention someone in a blog, BacklinkSEO will help you reach out to them. This can translate into social media shares, quality backlinks, and maybe even guest posting opportunities in the future! However, if you're looking for guest posting opportunities that are available right now, you can easily find them on BacklinkSEO.
BacklinkSEO can also help you build links using The Skyscraper Technique. In short, this technique involves reaching out to websites that are still linked to obsolete content and offering them your better, updated content to link to instead. After Brian Dean implemented this technique in 2015, his site's organic search traffic doubled in just 14 days and the number of backlinks skyrocketed. That's how much potential such outreach campaigns hold!
Also, if you are looking for round up posts, resource pages, or tool pages to mention your product or service, BacklinkSEO can assist you too. Alternatively, if you want to send cold emails too, you can rely on BacklinkSEO with your eyes closed.
And this isn't all. BacklinkSEO can also help you find websites that will feature infographics you produced or review your products and services, and more. Click here to view their wide range of link building services, learn more about how they are executed, and finally, create a new campaign. They also have an option to customize your campaign as per your needs.
Moving on to pricing- BacklinkSEO has 4 plans to suit their clients' different needs. Their prices start from $10 per month for their Solo plan, which includes 1 outreach campaign amongst many other services, and go up to $99 per month for their Agency plan, which includes 50 outreach campaigns and a lot more.
BacklinkSEO will do their best in whatever campaign you choose. Its team of professionals will work extremely hard to get you the links you deserve and need to improve your backlink profile.
With the motto "results first, invoice later", Jolly SEO promises that their experience in SEO and ghostwriting will pay off. They have been in your shoes before, so you rely on them to understand your needs.

Jolly SEO promises that they know the "#1 way" to earn backlinks from sites with high domain ratings. If you choose them, they will also provide you with a customized outreach program for free! Thus, you will get a comprehensive link building service.
For the free outreach program, they will ensure that they know about what you are targeting, the kind of domain rating and traffic you want, and how you want your brand's personality to be perceived.
Want proof that they live up to their promise of delivering results first? You will be charged only for do-follow backlinks with a domain rating of 50 or more.
For further evidence of their success, we attached a chart below that shows the results for their Ghostwritten Outreach (GO) clients in 2019. The average domain rating for Jolly SEO's GO arrangements is 74.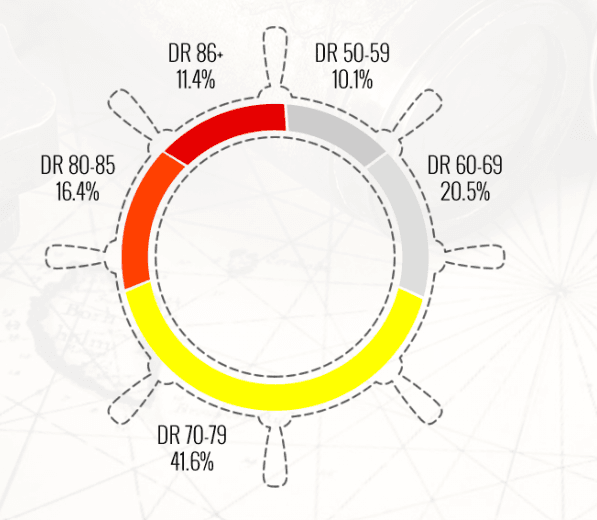 For each live do-follow link, you will be charged $475. Set up a call to discuss further details.
JollySEO is recommended by industry professionals. So, you can be assured that they know their stuff.
Having built over 5,000 backlinks, ShortList is a digital marketing agency that offers 3 different types of link building services: guest posting, posts on Quora, and business listings.

For their guest posting service, ShortList will write the guest posts and link to your site. They will work hard to get you quality do-follow links.
Moreover, ShortList will take care of the publication, outreach, and distribution themselves. Every client is assigned a marketer/SEO expert dedicated to the project to ensure that the strategy developed is executed perfectly. Their guest posting service packages start at $150 per link for their Standard package and can go up to $350 per link for their Platinum package.
Additionally, ShortList can also write posts on active Quora threads. The posts will be relevant to your niche and include links to your website. This will also result in genuinely interested visitors, thus generating a lot of quality organic traffic! ShortList's Quora packages start from $79 per answer, with a minimum order quantity of 3 for their Standard plan.
Lastly, you can get ShortList to make entries on related business listings and directories that link to your website. For this service, their prices start at $249 for 50 links and go up to $750 for 200 links for their Premium plan.
You can also create a customized bundle comprising the 3 kinds of services to varying extents. Click here to view their packages for each service, and compare prices and features!
Want some more good news? ShortList provides all its clients with an on-boarding discount of 10% on their first order. Just get in touch with them to talk about your project! They are very responsive. Not having to wait for ages for a single reply is surely a relief!
ShortList is a reliable link building service whom you can count on for building quality links for your website. The company has an expert team working behind it. Many experienced professionals in the field approve of it- so you know you can trust them too.
Digital Marketiiing will build links from highly authoritative websites that are sure to have an enduring positive effect on your backlink profile and domain rating. They will do exhaustive market research to understand your niche better.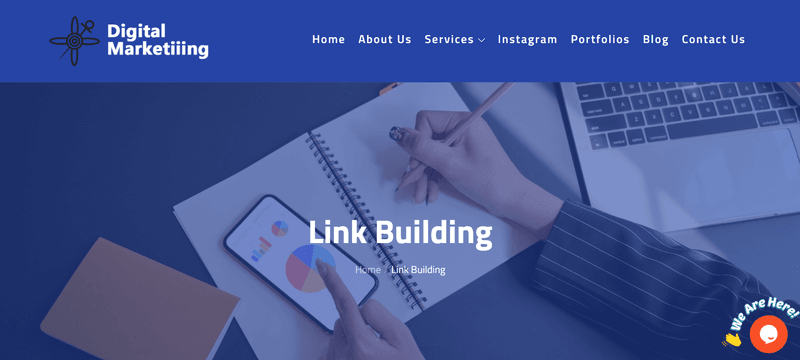 To start off, they will prepare by understanding the goals you want to achieve using your website.
Then, they will audit your backlinks to remove the toxic and spammy ones that can adversely affect your website's rankings.
They will then work on their outreach campaign. They do stress that your content should be up to the par for their efforts to pull through.
Lastly, Digital Marketiiing will inform you about possible collaborations with other content creators. You can contact them to get a quote for their services.
Digital Marketiiing has a team of strategic content marketers and PR specialists that understand how imperative having a good link building service is for you and your company.
SEOHive's website starts with the assurance that they are the only "white-label SEO partner" your agency will need. Read on to find out how true that might be for you.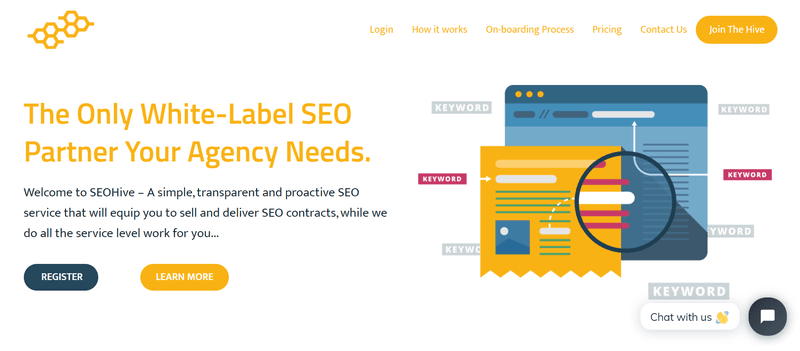 For their link building service, SEOHive will start by providing a backlink toxicity report for the links you already have. They will clear out the bad links if you want them to.
Once that has been dealt with, they will research your niche and check for any broken links that can be substituted with a link from your website.
You can reach out to 50 websites that may link to you through SEOHive every month.
If the website wants further information that they cannot provide, they will connect you with them so that you can clarify things directly.
However, SEOHive will not write guest posts for you. They might get you a guest writing opportunity, and you will have to get them written yourself. But they do offer a free editorial service for 1 guest post per month. SEOHive also mentions on their website that frequent rejection of guest post writing requests might hamper your relationship with SEOHive. Hence, if you want someone to write guest posts on your behalf, you will have to employ another agency.
There will be a $197 onboarding fee applicable for the first 2 weeks. After that, you will be billed on the number of services you avail from their website, starting from $250 per month. Click here to view their prices.
SEOHive's team of experts are professional and will work hard to get you what you need.
FATJOE offers a wide range of outsourced link building services. Because FATJOE focuses on being a supplier, rather than a consultant for agencies, they can keep their prices low.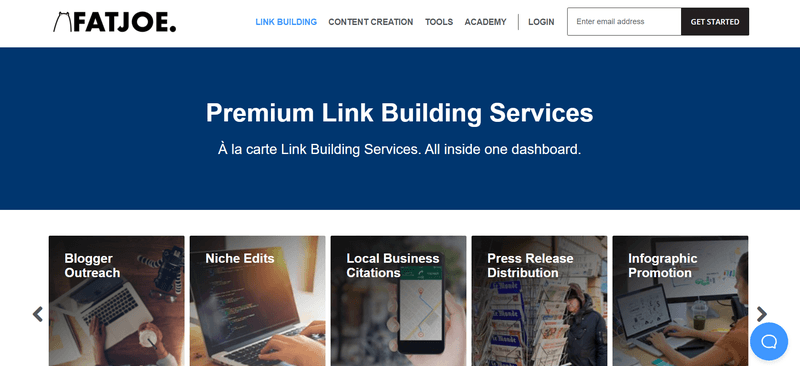 With their Blogger Outreach service, you can get your clients' brands mentioned on relevant, highly authoritative websites. Because FATJOE keeps track of all placements, you will never have to worry about duplication. They also swear by the quality of their copywriters' work.
Moreover, FATJOE mentions that your link will be placed in the correct context. Their prices start at $35 per placement and go up to $360 per placement.
You can also buy their Press Release Distribution service where they will write the press release and distribute it for you. You will also be able to revise the press release however many times you want. And of course, you can view your placements and access a PDF report to show to your clients. FATJOE charges $350 for this service.
And this isn't even all. The other services they offer include niche edits, content writing, local business citations, and infographic promotion.
FATJOE is an extremely responsive and professional organization. You can count on them for putting in their best efforts to get you quality backlinks.
Screaming Frog is a renowned name in the industry, and not for no reason. They provide quality service and are very fast in replying to any queries you may have.

Screaming Frog also offers audit services. That is, they will do an audit of your link profile to identify toxic links if you think it's necessary. Their link building campaigns usually begin by deciding on linking and content strategies.
Then, the outreach team works with the creative and PR teams to build strong relationships with bloggers and journalists that can translate into quality backlinks. They also have other teams that can help you with your social media promotion and with producing interactive content that is sure to engage the crowd.
For a link building campaign, Screaming Frog will allocate a minimum of 4 days per month. You will be charged $750 per day for their services. The number of days required will vary depending on your present scenario, competition, and goals.
Screaming Frog is a trustworthy organization full of professionals who are sure to provide you with a quality service.
Siege Media promises to help you create and promote content that will not only get you quality links but also drive business value to your brand.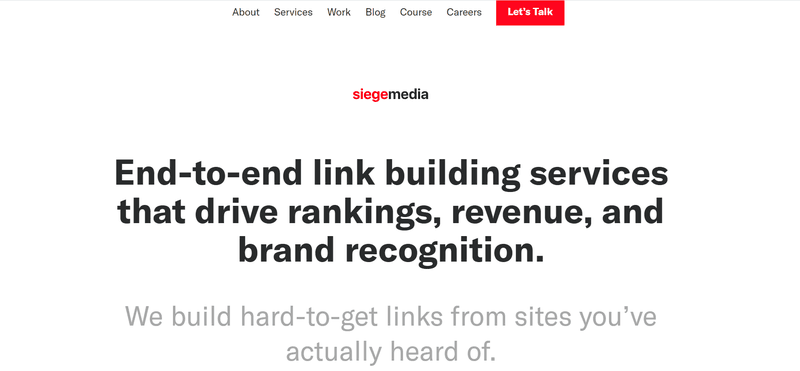 If you choose Siege Media, you will get a content writing team that cares about your brand and a team of analysts working hard at the strategy. With over 7,500 publisher relationships, Siege Media knows how to do outreach. On their website, they promise to contact at least 100 high-quality websites in an attempt to build links.
Moreover, they emphasize the importance of content that gets you consistent, relevant traffic. Siege Media wants the links to pour in regularly, and thus, they work accordingly. Being viral for a day or two is hardly the dream.
Siege Media focuses on the right factors to get your website the links it deserves. You can contact them to request a quote.
Sure Oak knows what kind of backlinks will provide the most value to your business. They state on their website that they are not simply a database; their customized outreach campaign is sure to get you highly sought after backlinks.

Sure Oak understands the importance of building relationships, and thus, has built a lot of connections over the years in the industry. You can benefit from their vast network of bloggers, webmasters, and more if you choose to employ their service.
The link building campaign starts with finding potential websites to get backlinks from and screening them to retain only the ones that match Sure Oak's high standards. They then reach out to the list of websites finalized earlier to get your site valuable backlinks.
Moreover, if you really want to see your site's rankings fly high, you can avail Sure Oak's EDU link building services. Backlinks from the sites of educational institutes can have a huge effect on improving your link profile and rankings. You can contact Sure Oak for a quote.
Sure Oak offers a renowned link building service that will give you value for your money.
Linkology focuses on quality, not quantity. They know that low-quality backlinks can end up hurting you, and they aren't taking any chances.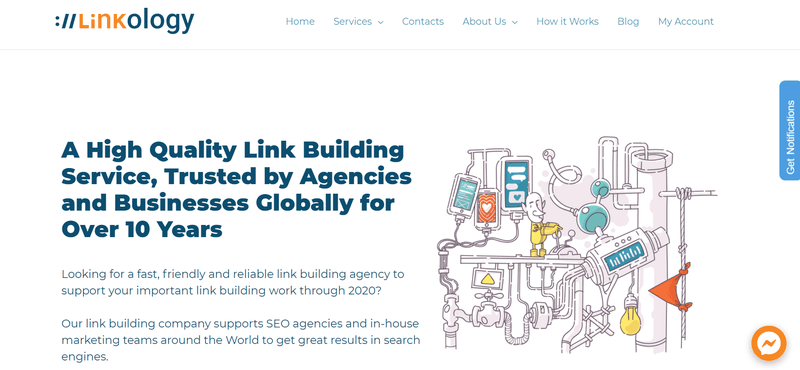 Linkology's team is meticulous when it comes to choosing websites to ask for backlinks from. You will be shown the list of websites and asked to approve. Then, their content writing team will produce relevant content that includes your backlinks. Finally, their "link builders" will publish the content on websites.
As proof of how confident they are in their ability to provide results, Linkology even provides a 100% money-back guarantee if you aren't satisfied with the results.
Moreover, they will also offer to analyze your backlink profile if they deem it necessary for improvement.
If you have any questions, you can contact them directly. They will get back to you very quickly, through your preferred means of contact.
Linkology will take the time to thoroughly understand your goals and business before strategizing. This is a link building service you can trust for good results.
Conclusion
Link building is an important part of your SEO strategy, so think carefully before investing in a particular organization for its link building services. You have to be sure that their service is the one that fits your organization's needs.
If you know about an excellent link building agency whom we didn't include in our listicle, feel free to let us know.
Otherwise, if you want to learn some link building strategies you can implement yourself, read this.