What is an SEO score? Is SEO score a buzzword? Why is everyone jumping on the bandwagon to improve their scores? How can I use this score to improve my site ranking? If you have all these questions buzzing in your head, then you have come to the right place.
In this blog, we have broken down each and every concept of SEO backed by refresher topics and explanations. Hence, this guide will offer you valuable insights on your SEO score as well as clear all your related queries. Feel free to jump to skip forward to any topic on the table of contents.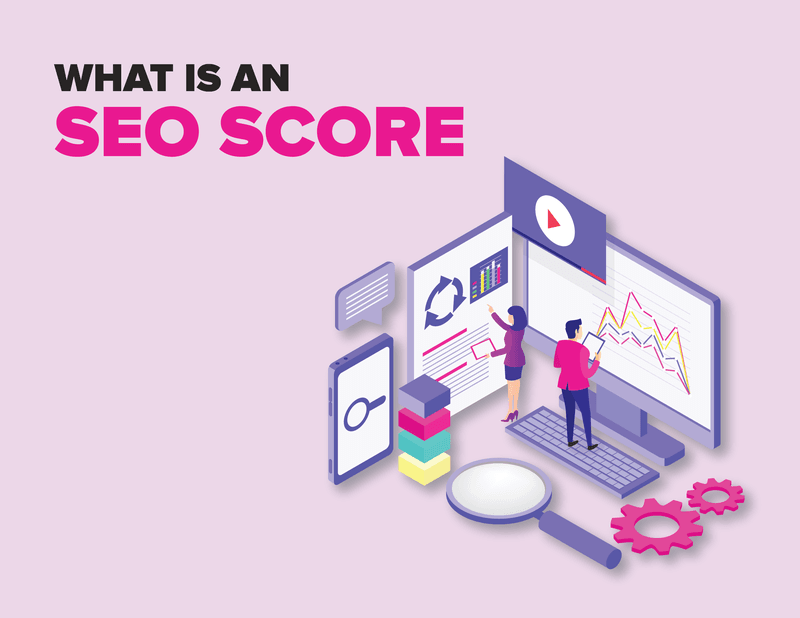 What is an SEO Score
An SEO score is an overall score attributed to your website based on several broad factors of SEO and associated sub-factors. The score measures as to how well-optimized the content and the technical aspects of your website are to ultimately contribute to better rankings and organic traffic.
The SEO score is originally a part of the Digital Certainty Index™.
Digital Certainty Index™ or (DCI™) Explained
The Digital Certainty Index™ measures the overall performance of a website based on three scores.
Quality Assurance: The Quality Assurance score is a measure of a website's user-related metrics. For instance, content quality, up-to-dateness, UX, and site security are some of the metrics under the QA Score.
SEO Score: We will discuss this section more in the latter part of the article.
Accessibility Score: This metric on the surface looks like a compliance score. However, it's not. It is a measure as to how well a website performs on standards set in Web Content Accessibility Guidelines (WCAG) by W3C.
Each score indirectly affects the others, since they are intertwined with each other. Moreover, each category makes up one-third of the total DCI™ score.
Four Broad Metrics for Measuring the SEO Score
There are four metric categories for measuring the SEO Score of your website. Each category has subcategories under its wing and has a different weightage. The four categories are:
Technical Metrics
Weightage: High
Technical SEO is the key driver of organic SEO. It measures the accessibility, crawlability, and indexability of your website. In simple words, you must make a conducive sitemap for the search bots. Make sure they can crawl and index your website without getting restricted.
The following are the sub-categories that contribute to your final technical SEO Score.
1. Friendly URL Format
By friendly URL, we mean friendly towards both humans and search bots. A friendly URL contains the web address in such a way that it explains the content and readable, thus easily comprehensible. Therefore, the users remember the URL. Moreover, search bots can also identify the content of the page easily.
For better clarification, here is an example of a bad URL. Can you make anything of it? Definitely no!
https://www.yourdomainname.com/index.php?productID=34848
Conversely, here is what a friendly URL looks like.
https://backlinkseo.com/get-backlinks-automatically/
Now both you and the search engine crawlers perhaps understood in an instant that this is a page that describes how to get backlinks automatically.
2. Indexability of your Website
Indexability refers to the ability of the search engine to crawl, analyze, and add a specific page to its index. It is the next step to crawlability.
An ideally indexable page has a well-defined sitemap and well-organized data markup. These resources assist the bots to crawl and finally index the site. Moreover, an optimized indexable page uses nofollow links wisely to prevent itself from unauthorized sites and malware.
Here is a general overview of how to improve the indexability of your website.
Designing a well-thought-out site architecture.
Creating a well-configured robots.txt file for your website.
Creating a solid backlink profile.
Submitting a complete sitemap to search engines.
Fixing broken links or potential server errors.
Avoiding any sort of looped redirects.
Ensuring that the crawlers not go through any unnecessary detours.
3. Technical Quality of the Website
Technical quality, as the name suggests, obviously contributes to the technical score and ultimately the SEO score. It is simply the perceived quality of the website by search bots. For instance, a technically sound website will have a safe and error-free domain.
4. Page Speed
Page speed refers to the speed at which the content on a page load. Usually, each crawler has a cap on how long it can crawl and index a particular site. Hence, loading slowly can cause the bots to not crawl your site after all.
Even from a human perspective, page speed can affect your SEO rankings. In an era full of impatient customers, slow loading translates to high bounce rates and ultimately, worse search rankings.
How to Speed up your Website
1. Image Optimization:
Images can play a double-sword role on your website. At one spectrum, images can help visitors to better engage with the content. They also help in setting your brand tone. Furthermore, images backed by proper information can convert visitors into potential customers.
However, misapplication of images can cost you customers instead. Amateur webmasters often upload images that do not fit in the website and hence, not displayed. For instance, a 2000 x 2000 pixel image would be eventually displayed in 200 x 200 pixels. However, doing so would take 10X times more time to load the image.
Therefore, it's always a pro move to scale the image.
2. Simple Web Design
At this point, you must have realized that a simpler website has an upper hand in loading time. Hence, they almost always rank better than complex ones. Simple web design also flattens the new visitor's learning curve, and thus increases the chance for conversion.
3. Turn on Cache and Cookies
Allowing caches and cookies decreases the loading time for your repeat visitors. Therefore, this step indirectly boosts your UX metrics, and ultimately your SEO score. To summarize, the ultimate answer to speeding up your website lies in improving on-page SEO.
Content Metrics
Weightage: Medium (or moderately high at best)
The content metrics the quality, engagement potential, relevance, and SEO-alignment of the site content. Moreover, it is also a measure of how accurately the meta-content describes the actual content.
The following are the sub-categories that contribute to your content score.
1. Content Quality
This metric falls on both spectra, subjective and objective. Quality content is relevant, updated, concise, and readable. It provides actionable value to the users. Moreover, the text does not have petty grammar issues.
Furthermore, the content is designed in such a way that the users can glide through the page seamlessly. For instance, proper utilization of headings and subheadings is an attribute of guided content.
Finally, beware of broken links on your page. They don't only piss off potential customers but also affect your SEO score.
2. Indexability of the Meta-Content
Having a short meta-descriptions for all pages is crucial to your content SEO score. Having accurate descriptions helps both the site visitors and the search engines.
3. Uniqueness of Content
Avoiding duplicate content is absolutely mandatory for a healthy SEO. By duplicate content, we mean the following scenarios.
You have two or more pages that have the exact page title and contain the exact same content. However, the pages have different URLs.
You have two or more pages that have the exact page title and contain different content on each page.
Furthermore, ensure that you have different meta-descriptions for each page. Duplicate meta-content does hurt your SEO score.
User Experience Metrics
Weightage: Low
There is a wide range of UX metrics to assess the quality of user experience on your website. However, not all of them are related to SEO score or such. UX metrics that actually affect your SEO are the following.
Page loading time refers to how fast the page loads for users.
Accessibility of visuals measures if the images are retrievable and provide practical value to users.
The number of redirects on the page should be minimal.
Bounce rate refers to the % of users who leave the site after visiting the homepage only.
Ease-of Navigation refers to the quality of the site that enables the visitors to navigate the site on their own and discover valuable content.
Furthermore, other factors such as link hierarchy and alt tags also influence the UX SEO score.
Mobile User Metrics
Weightage: Medium
The number of smartphone users has increased from a mere 2.5 billion to a whopping 3.8 billion in the last 5 years. Hence, it is only rational that mobile user metrics be taken into consideration.
The mobile user metrics measure the responsiveness and adaptability of a website when accessed from a mobile device. Moreover, a site with a good SEO score must have different displays for different windows. The mobile display should be optimized for small-screen tapping and scrolling.
Furthermore, page loading time on mobile devices is also factored in this metric.
Other Metrics that Affect Your SEO Score
1. Backlinks
To explain why backlinks are important to your SEO efforts, we will proceed with an analogy. Whom would you offer your vote to in an election? Any rational person would choose to endorse the most trusted candidate.
Likewise, backlinks can be compared to signals of trust from the referring website. It means that the link providers are confiding their trust in your website. Furthermore, backlinks work as signals to the crawlers. In general, the more backlinks you have, the more trusted you are.
By backlinks, we often refer to dofollow links only. However, nofollow links are equally important to your SEO score. Nofollow links play a crucial role in driving referral traffic. More traffic increases the likelihood of more customer engagement. More engagement translates to better lead generation and in turn, better sales record.
Ultimately, you have generated more profitability leading to better authority. Furthermore, a better backlink profile eventually translates to better domain authority and website ranking. Hence, you can portray your website as trustworthy business to potential customers. This claim only bolsters our previous take on backlinks.
The bottom line is that backlinks have an important role in your SEO score.
2. Domain Authority
Domain authority is a measure of the authoritativeness of your website on a scale of 1 to 100. A higher number translates to better domain authority. Usually, sites with better domain authority get priority on search engines. Hence, your domain authority can influence your SEO score.
How to Calculate your Domain Score
1. Log in to your Free Moz Account.
2. Open the Free Domain SEO Metrics Tool.

3. Input your website domain and Analyze Domain.
4. You will get a domain authority score within the range of 1 to 100.
What the Domain Numbers Mean (In General)
A score from 0 to 20 means that your website quality is still poor or decent at best. However, being in the upper range i.e. 20-30, indicates that you have potentials, but you need to improve your SEO strategies.
A score from 31 to 60 is a common score attributed to blooming startups or potential SMEs. Having a score in the lower percentile means that you are getting serious in your SEO field. A score close to 60 denotes a healthy SEO profile.
The next range, 61 to 90, means that your SEO and link building strategies are outstanding. Keep on doing what you do best.
The last stage of domain authority, from 91 to 100, refers to absolutely stellar performance. It is fair to say that having such domain authority is rare unless you have a multi-billion dollar website such as Facebook or Twitter.
Why You Need to Find the SEO Score of your Website
As we asked before, are you jumping on the bandwagon of calculating mindless scores? The answer depends. Calculating your SEO score helps you if and only if you know why you are doing so. Here are some plausible reasons for you to go forward.
Having an objective comparison such as SEO score helps you to compare yourself with your competitors. It helps you identify your strengths and weaknesses. Thus, knowing the score helps you make better SEO decisions.
Moreover, you can outline the better-performing companies' strategies, emulate them, and craft even better strategies. For instance, you can identify the keywords or audience group the successful competitors are targeting.
Furthermore, you can even evaluate what your competitors are doing wrong. In that case, leverage this opportunity to learn and come up with better solutions.
How to Calculate your Final SEO Score (Easy Way)
Now that you know all the ins and outs of SEO score, let's dissolve the final question that is troubling you.
How do I calculate the SEO score for my website?
Calculating your score manually can take you weeks or even months. In this regard, we suggest that you resort to a professional SEO audit. However, how to choose from tons of auditors out there? Hence, here is a platform that we recommend.
RankToday: Simple & Straightforward SEO Solutions
Most SEO auditors that we have come across dive into complex conversations. However, RankToday prides itself on data-driven research, but precise and client-friendly recommendations. You can even get a solid SEO score backed by rich insights with its free SEO Audit Tool.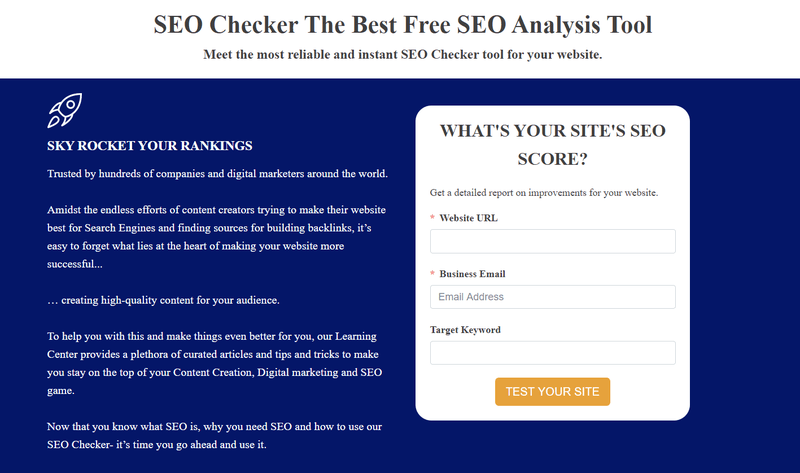 Conclusion
So, are you ready to find your SEO score and act upon it? Do share your valuable insights and comments with us. Since you have come this far, we would like to share one last insight with you. It seems like you take your SEO marketing very seriously.
In that case, we recommend that you take a tour of our backlink monitoring tool, BacklinkSEO. Our proposition is simple. We help you monitor your most important backlinks so that you can focus on growing your traffic.
Finally, we wish you the best of luck with your SEO efforts.